* Says local software alternatives performing at lower cost
WHILE Nigeria expends about $2.8 billion annually on the importation of information communications, ICT, good and services, a huge amount of almost $1 billion, or about 4% of the proposed 2017 annual budget will be spent on software importation.
The Director General of the National Information Technology Development Agency, NITDA, Dr. Isa Ali Ibrahim who disclosed  this at the weekend in Lagos during the 2017 Institute of Software Practitioners of Nigeria, ISPON, Presidential Dinner  told the gathering that as a regulator of the sector, the regulatory authority was keen to ensure  the Nigerian  local content policy  was  promoted and enforced. "We are committed  to the local content policy for the development of our emerging ICT sector and  for the reduction of capital flight.
"We are committed to reverse this trend of uncontrolled inflow of foreign software to the detriment or our own local software. We seek to identify, strengthen and promote  our indigenous software as an alternative to the foreign software that currently dominated  our ICT sector. After all, facts and figures at our disposal suggest that the local software alternatives are performing well at a much cost",  the former acting DG of NITDA , Vincent Olatunji who represented the NITDA DG, explained.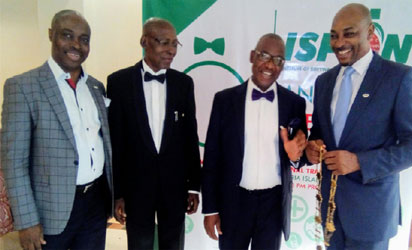 Success of indigenous solution:
According to him, the success of an indigenous solution such as the Treasury Single Account, TSA, policy of the Federal Government was a case in point. "TSA  has has assisted government in eliminating ghost workers thereby saving government billions of naira on monthly basis. NITDA is therefore eager to support the local software industry to have many more indigenous success stories.
"We will therefore  be glad to partner with ISPON to develop a robust database of certified software practitioners as well as a repository containing a list of the the products of your members with detailed description of your expertise and available solutions that can address  the peculiarities of our country and by extension, Africa.  In addition, this will enable us to properly liaise with the  National Office for Technology Acquisition and Promotion NOTAP,  to ensure that approvals are only given for the importation of software for which there are no viable indigenous alternatives", he further explained.
Solutions must meet necessary standards:
To meet international best practice, the NITDA DG noted that as a way of promoting local solutions, the regulatory agency would provide needed support to ensure that these products meet all the necessary standards and best practices for quality.
"Much as we eager to promote indigenous products, we are careful not to do so at the expense of the minimum global standards. Thus, our office for Nigerian Content, ONC, is actively exploring support mechanisms for the local solutions for both the Nigerian and foreign markets", he noted.
Subscribe for latest Videos