By Daniel Gumm
WARRI—A House of Repre-sentatives member, Mr. Daniel Reyenieju, has described the current leadership of the Niger Delta Development Commission, NDDC, as being made up of persons who have no principle of fairness and no capacity to preside over such developmental agency within a complex region like the Niger Delta.
Reyenieju, who represents Warri federal constituency of Delta State, was reacting to allegations that Itsekiri areas were deliberately excluded by the commission from benefiting  in the recently publicised call for tender for about 200 projects.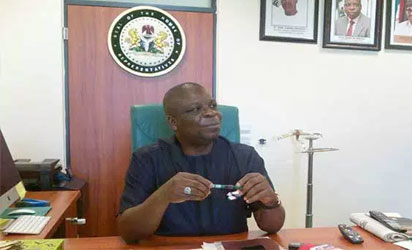 The lawmaker noted that the NDDC management cannot pretend not to be aware of the fact that besides Ijaw ethnic nation, Itsekiri occupies the second position in oil production/bearing nationally.
"Thus, for such ethnic group to be excluded in the location of projects is not only preposterous, but a clear display of wickedness with the sole aim of causing inter-ethnic rivalry and acrimony in the area," he said.
Reyenieju called on the Federal Government to as a matter of urgency decentralize the commission and save some section of the region, particularly the weak groups, from what he described as the evil machination of sectional jingoists, which he alleged the current management of the commission epitomises.
"Such decentralization has become imperative in view of the relegation of quantum of oil production as the major determinant factor in the consideration of areas to benefit in the location of projects in favour of political considerations."
He added that the current arrangement whereby the same individuals (i.e. members of the NDDC Board) "take custody of the money released to the commission by the Federal Government and oil companies and at the same time award contracts and effect payments remains a recipe for self-aggrandisement, privatisation of state resources, corruption, nepotism and inefficiency."