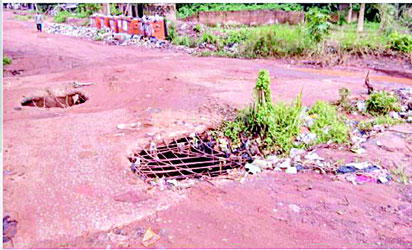 •Road leading to Ziks's Onuiyi Haven residence at Nsukka.
By Chinedu Adonu
ENUGU — The federal road linking the home of the late President of Nigeria and Owelle of Onitsha, Dr Nnamdi Azikiwe, has now become impassable due to erosion menace which cut the road into two; few metres to the Onuiyi Haven residence of the late sage.
As a result of the development, the house which was easily accessed from Odenigbo Roundabout, Nsukka, is now isolated from the neighbourhood.
A visit to the area by South East Voice showed that the road which was taken over by the Federal Government in honour of the former president when he died in 1996 has now deteriorated to the extent that vehicles no longer ply it.
The government reconstructed the road from Odenigbo in Nsukka through Obukpa, Ovoko to Obollo Afor to enable mourners visit members of the bereaved family at Nsukka when Zik died.
However, although the former President's widow, Professor Uche Azikiwe still lives at the Onuiyi Haven with some of his family members, the house looked desolate as family friends can no longer visit them.
Furthermore, the Ziks' Flats (students' hostels) overlooking the Onuiyi Haven residence from the Obukpa flank had also been abandoned by students as the hostels were in various states of dilapidation due to lack of care by the authorities of the University of Nigeria, Nsukka, UNN. The proprietor of a cyber café near the Onuiyi Haven told South East Voice that the road became impassable when the culvert constructed near the Zik's house collapsed due to erosion menace.
The man who simply gave his name as Vin said that people had not been patronising his business centre as they "can no longer drive in and out of the area, except those who come on commercial motorcycles popularly known as  Okada.
An official of the Federal Ministry of Works said in Enugu that a contractor who was expected to reconstruct the road moved out of site following some disagreements over payment several years ago and had not moved back without providing further details.