…says nothing special about facing Chelsea
JOSE MOURINHO has branded Chelsea one of the most defensive teams in the country. The table toppers have been brutally efficient in their quest to claim the Premier League crown.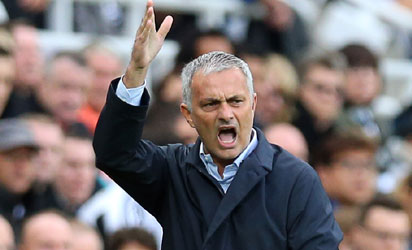 But their former boss who faces them with his  Manchester United  side at Old Trafford tomorrow is hardly labelling them the new entertainers.
Mourinho  said: "They have a certain style of play, they stick to it, they do it very well. "Not every team defends with 11 players, and they defend with 11 players."Not every team is so objective in their counter attacks.
"They are very objective in the counter-attack and they have individual players out of the context of the game that can also resolve the problems. So they are a very strong team." Meanwhile, Mourinho   insists facing Chelsea  brings no extra emotion. "You say that word 'emotion'," the United boss said when asked how his emotions differ after two high-octane meetings in the capital. "For me, it is just a game. One more game. No difference for me."
Asked if there was nothing special about the game, Mourinho: "No, not at all."