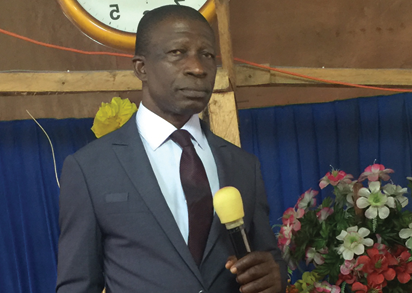 Pastor Bamidele
By Pastor Layi Bamidele
Isaiah 1:19—THE Bible says if you will be willing and obedient, not if you will be willing alone. You can have the will, and not be obedient. A servant is somebody that serves, not someone that intends to serve.
What do we mean by obedience?
Obedience is doing what you are asked to do correctly. The greatest undoing of a man is for him to have the intention of doing a thing but without matching it with actions. It is the application of knowledge, and the utilization of correspond-ing actions that produce power.
Information without action equals to frustration. Information plus action equals to manifestation or transformation. Until you are informed you cannot be trans-formed.
God only reward obedience, not willingness. If you are willing and not obedient, God will reward you.
Most Christians come to church, hear the word of God, love the word, but often refuse to do what the pastor preached. That is why nothing changes around them. They will count several years after their salvation experience but nothing to show forth in their lives.
Obedience is the easiest way to a distinctive life. Disobedience, which is willingness without action, is the highway to your fall to the pit. Exodus: 23:25-26.
WHAT ARE THE KEYS THAT MAKE YOU TO OBEY GOD
You must believe the instructions of God. It is not for you to negotiate his instruction: you don't have to question or analyse His instruction.
His instruction is not to be postponed; it must be obeyed with the highest speed you can. Post-poned obedience is disobedience. Adjusted obedience is obedience. Partial obedience equals to disobedience. Selective obedience is disobedience.
If God must respond to your situation start practicing total obedience. Your service is not acceptable until this is done.
You must sacrifice yourself and all your life unto Him. Sacrificing yourself means in all things. God is first before yourself talk-less of others around you. You have no control over yourself but that God is the one that has control over you. Sacrifice has to do with obeying what God says and not what your emotions, feelings or environment says. Until God fools you He cannot fill you. You must be foolish in your obedience to His instruction for you to see His greatest manifestation of His Glory.
You must be ready to perform a functional service unto God. The function you perform in church as a Christian is superior to the position you occupy in the church.
Many Christians only carry titles in the church but their service is not acceptable unto God. They are too arrogant for God to control or lead them. This type of people happen mainly to be workers, ministers and even atimes pastors in churches. The task you accomplish is superior to the title you wear.
Listen to me, until you stand up for God, you cannot stand out in life. Psalm 100:3 says: "Know ye that the Lord he is God. It is he that hath made us, and not we ourselves, we are his people, and the sheep of his pastures"
Remember if the purpose of a thing is not known, abuse is inevitable. God used David to expand his kingdom and propagate his work. When Saul could not perform what God want to use him for, he replaced him with the person that was ready for God.
WHAT DOES YOUR FUNCTIONAL SERVICE ENTAILS.
You must be ready to defend the course of God. David defended the course of God. Esther is another typical example that defended the course of God. Moses even grew up in Pharaoh's palace; but he defended the course of God. Many Christians instead of defending God's course, they only fight God's course.
Whichever position God has placed you, He has placed you there to defend His course and not to pull His name down. Many Christians today instead of defending their local church, they will be looking for the fault of their pastor or the fault of their church; that is why their lives have no meaning.
The moment many of you are promoted the next thing is for you to use that position to either fight your pastor or be looking for a way to pull the church down. You cannot pull God's work down; in so doing you are pulling your destiny down. A word is not for the wise. Go and use Job 36:11 as your watchword in the act of your services to God.