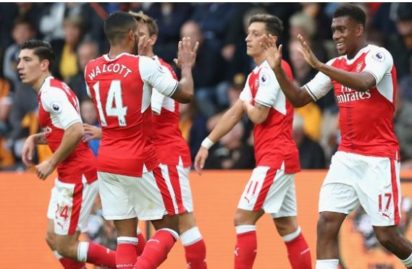 Arsenal
Jamie Carragher pulled no punches in his assessment of Arsenal on Monday night, calling Arsene Wenger's side "cowards" after their 3-0 loss to Crystal Palace.
"The best description of the players was two years ago, from [fellow Liverpool legend] Graeme Souness. He said they're a team of son in laws," the Sky Sports pundit said.
"But what father would want his daughter to bring one of them home? I'm serious. Bottling it, cowards, ducking out of challenges. What type of man would you want to bring your daughter home? One of them?"
Carragher singled out Arsenal stars Alexis Sanchez and Mesut Ozil for the most criticism, saying they have been "playing to get away."
"I just think, from top to bottom this club is not right," he said. "The Wenger talk of staying or going. The contracts with Sanchez and Ozil. They've been nothing short of embarrassing since the contract talk started."
'We always criticise Ozil, and I'm not his biggest fan. But I think Sanchez has been awful the last couple of months. Certainly not looking like they're playing for contracts. It's looking like they're playing to get away.
"They're talking about how much the figure is going to be. Arguing about money. Their performances since the talks have been embarrassing. They're supposed to be the star men of this team. They've been bought to take Arsenal to titles, to the Champions League and they've been nowhere near good enough."