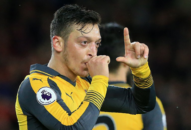 Arsenal's German midfielder Mesut Ozil gestures as he celebrates scoring his team's second goal during the English Premier League football match between Middlesbrough and Arsenal at Riverside Stadium in Middlesbrough, northeast England on April 17, 2017. / AFP PHOTO
Arsenal defeated relegation threatened Middlesbrough 2-1 to rekindle their hopes of finishing in the top four. Goals were scored by Alexis Sanchez and Mesut Ozil for Arsenal while Alvaro Negredo scored for the home team.
The win comes on the heels of a poor run that saw the Gunners win just one of their last five Premier League matches.