Medical doctors are increasingly making an impression in the country's political terrain with some of them building political legacies that cloud   their professional training 
By Emmanuel Aziken, Political Editor
Dr. Alex Obiogbolu, one of the leading aspirants for the ticket of the Peoples Democratic Party, PDP in the forthcoming governorship election in Anambra State as a student in Kings College, Lagos in the seventies still remembers the visage and carriage of Dr. Olusola Saraki, the medical doctor turned politician who became Senate Leader in the Second Republic.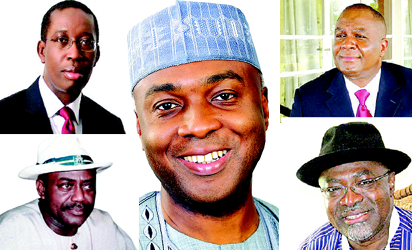 "Dr. Saraki was an inspiration to me in particular and I was particularly moved by his capacity for grassroots mobilization in Kwara State," Dr. Obiogbolu told Saturday Vanguard in a chat. After his graduation from medical school, Dr. Obiogbolu in the footsteps of his mentor went into politics and also relocated from Lagos to set up a grassroots network that continues to sustain him in his native Anambra.
Dr. Obiogbolu confesses that he has abandoned medicine, noting that he could not combine politics with medicine.
"When a patient comes to the hospital he expects to see his doctor and not for his doctor to refer him to a junior doctor."
Obiogbolu may not yet be reckoned with nationally, but in Anambra State, he is said to be a political force to contend with.
Remarkably, one of those contending with him in Anambra but on the platform of the All Progressives Congress, APC, is another medical doctor who has also abandoned or in fact, may never have practiced the profession he struggled for years to obtain its certificate.
Dr. Tony Nwoye, former chairman and 2013 governorship candidate of the PDP in Anambra State is also a medical doctor whose present aspiration for the governorship is being backed by some leading officials of the professional bodies in medicine. Among those backing him are the national president of the National Association of Resident Doctors, NARD, Dr. John Onyebueze and the Enugu State chairman of the Nigerian Medical Association, NMA, Dr. Peter Ekwueme.
Nwoye who was elected a member of the House of Representatives on the platform of the PDP has since defected to the APC. He was a former national president of the National Association of the Nigerian Students, NANS.
Just as Drs. Obiogbolu and Nwoye may face off in the Anambra governorship contest, Dr. Ifeanyi Okowa and Dr Cairo Ojougboh are also facing off within the Delta State chapter of the PDP. Both doctors who have a history of being in rival political camps are again posed for another faceoff in their native Delta State next week.
Dr. Okowa, the governor of Delta State is unarguably a textbook definition of success in the political arena. Dr. Okowa's path to political fame has seen him progressively step on nearly every political office to become governor.
Following secondary education at Edo College, Benin, Okowa qualified as a doctor at the University of Ibadan. Unlike many of his colleagues who progressed towards residency and other specialist callings, he set up practice in Igbanke, in Edo State, across the border from Agbor in Delta State. That perhaps positioned him in advantaged position to turn into a political colossus, first in Ika and now in Delta State. On his path to fame, he was secretary of the former Ika Local Government, then chairman of the Ika North Local Government Area, commissioner of several portfolios in the James Ibori government, secretary to the State Government, Senator and eventually governor.
Along the way, he has had to contend with fellow doctors including Dr. Ojougboh for control of Ika politics. The two men are again set to confront one another on April 26 as they lead different tendencies in the PDP in a battle of intrigues in the bye-off election for the Warri South 1 Constituency seat. Okowa may be the undisputed leader of the PDP in the state.
However, many of his supporters are believed to be sympathetic to the candidate of Accord. That is because Dr. Ojuogboh, the deputy national chairman of the PDP is aligned with the Senator Ali Modu Sheriff tendency that is officially presenting the PDP candidate. The candidate so nominated, however, does not belong to the mainstream of the party in the state that is in the firm grip of Dr. Okowa.
Prior to his election as senator in 2011, Dr. Okowa had to outmanoeuvre another doctor, in the person of Dr. (Mrs.) Mariam Ali, the wife of the former chairman of the party in 2011. It took some measure of tenacity on his part to overcome Dr. Ali given the open antagonism from the then chairman of the party in Delta State, Barrister Peter Nwaoboshi.
Remarkably, Dr. Okowa took over power from another medical doctor, Dr. Emmanuel Uduaghan who was himself also a former commissioner and secretary to the State Government. Doctor Okowa, remarkably, followed Dr. Udugahan to become SSG in Delta State and both of them enjoyed a family and political relationship that was well spoken of in Asaba before   the point of the Uduaghan succession.
Dr. (Mrs.) Ali's path in politics had of course been paved by her husband, Col, Dr. Ali, himself, also a medical doctor who rose to become the national chairman of the PDP and nicknamed by political journalists and commentators as the garrison commander on account of his sometimes unconventional stance in political loyalty.
Tenacity is undoubtedly in the anatomy of doctors in the political arena. The case of Dr. Bukola Saraki is a shining example. Dr. Saraki was tenacious in the path of his father and has eclipsed his father's political achievement as Senate Leader to become Senate President. He even outsmarted his father's hold on Kwara State to become the undisputed leader of Kwara politics.
Senator (Dr.) Chris Ngige is another medical doctor who demonstrated tenacity even to the point of humbling himself to allow seemingly untrained political godfathers to guide him into his political aspirations.
His tenacity may have paid off as it saw him through the thorns and treachery that followed his fallout with the Uba brothers. It also helped him to become senator and presently, minister and leader of the APC in Anambra State.
Other doctors who, like Ngige, transformed from medicine to lawmaking include Prof. Jibril Aminu, Dr. Chimaroke Nnamani, and Dr. Olurunnimbe Mamora. As a lawmaker, Senator Mamora particularly enlivened the Senate chamber with his matter of fact comments and singing of hymns, habits that tended to mask the fact that Mamora is himself a doctor.
Senator Chimaroke Nnamani one of the handful of Nigerian-born experts in Fetal Medicine did not just express himself as a chronicler of democratic practices during his lecture circuits as governor, but made profound contributions during his occasional one-term stint in the Senate between 2007 and 2011.
While doctors have in the Fourth Republic almost always put their aspirations in the Senate, it was not always like that in the Second Republic when Dr. Junaid Mohammed made himself one of the defining voices of the House of Representatives between 1979 and 1983. The irrepressible Russian trained medical doctor continues to approach politics with the same kind of passion driven by the Hippocratic Oath on doctors. It is that passion that has made him one of the country's leading critics given his unfazed disapprovals of the Goodluck Jonathan and Muhammadu Buhari administrations.
Two doctors who transformed themselves into political icons, even if temporarily, were Drs. Peter Odili and Abiye Sekibo. Both practiced medicine and made a success of it before advancing into politics. Odili and Sekibo were factors in Rivers politics between 1999 and 2007 and even if their influence may have lately weaned, the collaboration of both doctors continues.
Doctors who turned into politics almost always made it and became political phenomena carving out legacies that almost always buried impressions of their training in medicine.
Given the mistrust many Nigerians relate with politicians, it is no surprise that the question arises now and again on who would trust a medical doctor who has hardened himself in the political terrain to give him an injection?
Subscribe for latest Videos