•Says his brother, Gen Musa Bamayi campaigned for his conviction
Former Chief of Army Staff m (COAS) Lt. Gen. Ishaya Bamayi, has revealed how the feud between him and his late elder brother,   Gen. Musa Bamayi remains a pain to him.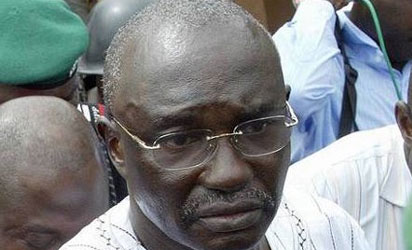 In his book, "Vindication of A General", Gen. Bamayi said that he was shocked that his elder brother  could go to the extent of campaigning for his conviction while he was in prison custody, facing trial for alleged involvement in the attempt on the life of late Mr. Alex Ibru, during the Gen. Sani Abacha regime.
His words: "I consider this aspect of relieving my experience the most painful because even though I am a Christian, I have deep respect for African culture and values.   In our setting, the family domain is the most private and everyone would like to keep family disagreements no matter how difficult as purely family issues.
"Unfortunately , the handling of our family issues was made to go viral by my late brother the way it was put in the public domain and cashed upon by those who tried to settle personal scores with me for my public role.
"The burden I carry in this regard is to tell the truth about issues between my late brother and me since he does not have the opportunity to do a rejoinder. The real puzzle that would confront anyone who has heard about the open disagreement between my elder brother and me is how would two brothers who have been so fortunate in life be at each other's throat.
"My parents had 12 children: eight boys and four girls, including two sets of twins.   Musa and I never had a good relationship , but I never knew how bad it was until my uncle, Matthew Sundu, told me that Musa had disliked me since we were children.
"I asked him why, and he told me it was because I had always been obedient to my parents while Musa was always rebellious. I therefore became their favourite.
"He told me a story of how the elders of Senchi (his hometown) were relaxing one day, and I came to pass by.   My father told them, 'Look at that boy, he is the one who will take care of me in my old age'.   Elders like the late Dazi, Na-Allah and others rebuked him.   He stood his ground.   And said they would see it with their own eyes.
"He said if he told Musa and me to sit at one place and went away, he would meet only me there when he returned.   Musa would not be there.
"Nevertheless, my relationship with Musa remained cordial while we were in the Army.   We never had any problems as officers or soldiers until I was appointed COAS in 1996."
According to Gen. Bamayi, there was no substance in the accusation that he was having an affair with one of his elder brother's wives, named Ladi who resided in Zaria, while he (Bamayi) was in Lagos.
The said Mrs. Ladi Musa Bamayi was the third wife of late Gen Musa Bamayi's four wives but was said to be a victim of constant violence from her husband and she had to run away from home on many occasions to stay with her own parents or Gen. Musa's married daughter in Zaria and that other members of the family were the ones who had to care for her.
He said there was no special relationship between him and the woman but that even after explanations and interventions by other family members, Gen Musa Bamayi continued to accuse him unjustly.
The author said that while in prison custody facing trial in Lagos, his elder brother met several influential people and even the Lagos State judiciary asking that he be convicted.
His words, "The Emir of Zuru, Gen. Sani Sami and his brother, Alj. Usman Sami , appeared to have been very happy that I was arrested, for reasons best known to them.   My late brother, Gen. M M Bamayi, was also happy and granted many interviews in which he made very uncomplimentary comments about me.
"He clearly stated he believed I had committed the offence for which I was being tried.   He even approached some members of the Lagos State judiciary with some former Heads of state from the North to plead that I be convicted by any means."
Gen. Bamayi also revealed that the Emir of Zuru, Gen. Sani Sami (rtd) tried everything possible to get him (Bamayi) convicted and kept in jail.
He said that the attitude of the Emir was a surprise to him because he helped to install him as Emir .
Gen. Bamayi said, "The Emir of Zuru , Gen. Sani Sami, did everything to ensure I remained in prison and get convicted.   He wrote many letters condemning me to different people.     Some of the letters were written to the late Sultan of Sokoto, Muhammed Maccido, in which the Emir stated clearly that as far as the people of Zuru were concerned, and on behalf of Muslims in Zuru, my detention was the best thing to ensure peace in Zuru and Kebbi State, as a whole."
According to Gen. Bamayi, the Emir of Zuru also wrote to the then National Security Adviser, Gen. Aliyu Gusau, that the people of Zuru wanted Bamayi's assets investigated and confiscated.
According to him, "He also wrote a letter to Gen. Aliyu Gusau, who was then the National Security Adviser to President Olusegun Obasanjo, alleging that the people of Zuru suggested my assets in Zuru should be investigated and confiscated.
"He claimed I had influenced and stalled a wrong heritage for myself, claiming Ribah is my hometown."
Gen. Bamayi said that the allegations were false and that both Gusau and the late Sultan Maccido, knew the truth –that he was being persecuted, which was why the Emir's wishes did not come to pass.
According him, his detractors did not expect him back from prison and were, therefore, shocked when he was discharged and acquitted in 2008.   Gen. Bamayi said when he returned to Zuru, after his release, the crowd that received him was unprecedented and that his detractors had to beg for forgiveness.
Gen. Bamayi had been arrested by the Obasanjo government   on October 13, 1999; held in detention in Abuja till November 23, that year before flying him to Lagos for prosecution, along with former Lagos state Police Commissioner, James Danbaba, JB Yakubu and Gen. Abacha's Chief Security Officer, Col. Maj. Hamza Al Mustapha.