THE long-drawn battle between the former governor of Edo State, Adams Oshiomhole, and the
former governor of the Central Bank of Nigeria, CBN, Professor Charles Soludo, was rekindled at the Vanguard Economic Discourse held in Lagos yesterday.
Oshiomhole, responding to Soludo's criticisms of the current foreign exchange policy which he said was opened to abuse, round-tripping and corruption, claimed that the same scenario was applicable in Soludo's regime at CBN.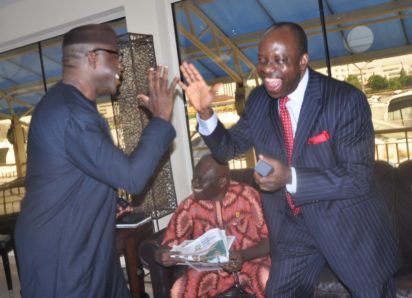 He specifically alleged that under Soludo, two first generation banks were given privileged allocation of foreign exchange just a day before the apex bank devalued the Naira, thereby, giving the said banks opportunity to make huge and quick profits from a new exchange rate.
Oshiomhole also lampooned Soludo's pet programme, the National Economic Empowerment
and Development Strategy (NEEDS), saying that it failed.
However, in his response to the allegation, Soludo lamented what he saw as outright mischief or ignorance on the part of Oshiomhole.
He stated: "We have laid out the framework, the situation is there, millions of people are out of jobs, we can't trivialise it with jokes and unfounded personal attacks.
"I am not going to dignify such with any response, but there is one I must respond to, and that is the point made by my good friend Adams Oshiomhole.
"I have to respond to that on a point of facts, two things, the first is that the NEEDS was for 2004 to 2007. For the record, I left office 2009, we are fond of, in this country, when you don't have the facts you invent your own. I think we can have a debate someday about what NEEDS achieved vis-a- viz its target between 2004 and 2007. That is for another day. But I don't want to get into that now.
"Second is when Adams made the point about exchange allocation to two banks. I think that is very specific that I need to respond to directly.
"Adams Oshiomhole has lied, that is the first thing; I didn't say he misquoted anything; he has lied, and I want to state that for the record.
"At the turn of 2008 financial crisis, we had an option, we built the re serve to unprecedented level in Nigeria, and we had the liberty to defend the Naira.
In fact, I could have left office with Naira being less than a N100 to the Dollar, because we had watched it, we built it, it hadn't been done before, nor had it been done after we left office.
"Now when we faced the crisis we decided in the interest of the country that we must allow the exchange rate to adjust, in order to save our reserves, and in order for the economy not to go into a recession. And then we made the exchange rate stable.
Adams Oshiomhole, may be doesn't know the technical terms and difference between devaluation and depreciation.
"Now on the accusation of allocation of foreign exchange, we had three times a week open biddings for forex by banks.
Only the successful banks at each bid got forex, even if it was one bank, two, three or more and we did not change the rules when we wanted to devalue.
Charles Soludo was not even part of the committee for it, and by the time of the bid, there were offers and counter-offers, and in the market, they determined the cut off and the successful bid.
"Now when two banks succeeded or one bank or whatever, the governor would not know. We did not make any allocations.
There were no direct allocations for anybody, every bid produced a different exchange rate, and different sets of successful bids and banks.
"So Mr Oshiomhole, with due respect, I think if you don't know what to say sir, don't just get into this kind of personal allegation."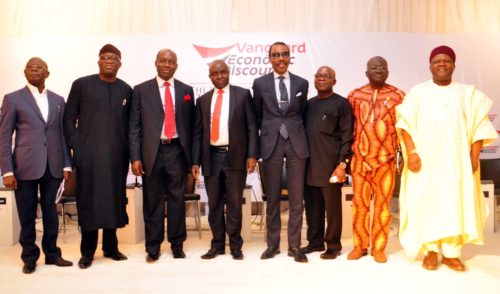 Soludo seeks reform of one-week old FG's economic plan
Meanwhile, Soludo, an erudite economist of international reckoning, who was the Keynote Speaker at the Vanguard Economic Discourse, called for a review of the one week old economic revamp blue print of the Federal Government, titled, Economic
Recovery and Growth Plan, ERGP, based on some inadequacies he identified in the plan doc-
ument.
Soludo, along with some other leading economists, organised private sector and labour leaders canvassed for what he called
'Extended ERGP' or 'ERGP Plus'.
The Federal Government had earlier this week unveiled its economic road map aimed at rescuing the economy from recession and achieving economic growth rate at over seven per cent by 2020.
Though Soludo and other analysts lamented the delay in rolling out the plan which they believed worsened the economic situation. They, however, expressed a 'better-late-
than-never' view on the government's disposition.
Full text of Soludo's analysis and recommendations are on pages 75 & 76.
Below are the highlights of views of the panelists.
ERGP is a fire fighting framework – Malafia In his contribution to the discourse, former deputy governor of CBN, Mr. Obadiah Malafia, said he did not think the objective of the Plan is structural diversification of the economy.
He stated: "What they have is a fire fighting framework to get the country out of recession.
So I don't think we can accuse them for something that they really did not set out to do.
We're linking planning to budget — Fayemi
Rising in defense of the Plan, the Minister of Solid Minerals Development, Dr. Kayode Fayemi, stated: "This is not a plan that has just come out of the blues, it's something that speaks to some of all the good things that we can identify and which Nigerians already agree.
It is how to take this economy out of recession, but much more fundamentally, how do we restructure the economy for sustainable growth rather than just consumption-driven growth.
"You refer to improving on implementation, it's simply because these are the banes of previous plans. It's not lack of plans that we suffer from, it's lack of implementation of the previous plans that has gotten us to where we are.
"Yes, I agree that we haven't had long-term perspective planning and this is what this government is attempting to do, particularly in linking planning to budget because that has been disconnected for too long in our previous occasions.
ERGP should be consistent with constitutional responsibility of govt –
Issa Aremu Comrade Issa Aremu, Vice President, Nigeria Labour Congress, NLC, at the Discourse, spoke of the constitutional responsibility of government to the governed.
He stated: "Soludo talked about whether the new Plan is consistent with the manifesto of the ruling All Progressives Congress, APC. I think the real document we should refer to is the constitution of the Federal Republic of Nigeria.
"With all its limitations, the 1999 Constitution is clear about the direction and trust of this Republic.
And Chapter two, Section 16, states that government will harness national resources to promote national prosperity. Government will ensure plan and balance development and that is the key word.
Government will promote the welfare of the people.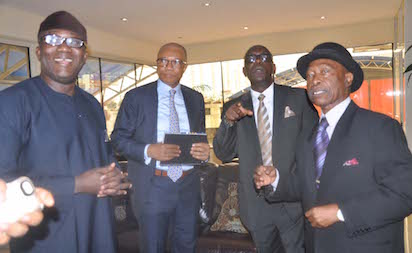 I think we should relate the new Plan to that."
Forex policy is central to objectives of ERGP – Muda Yusuf
Mr. Muda Yusuf, Director General, Lagos Chamber of Commerce and Industry, LCCI, fo-
cused his presentations on the crises of confidence and challenge of foreign exchange in the economy which he said would undermine any plan.
He stated: "The key driver, just as the Keynote speaker said, is confidence in the economy. If there is no confidence, there is no way to get investments to come into the economy. And the policy environment is a major driver of confidence.
"The keynote speaker dwelt extensively on the significance of the exchange rate regime. That for me is very central because no economy can live in isolation of other economies. That is why getting it right with the foreign exchange policy is very critical and very
central to the ERGP."
Eliminate subsidies, focus on investment-oriented govt spending – Bismarck Rewane
For Nigeria's frontline economists and financial analysts, Bismarck Rewane, ERGP should rather address government's spending habit, and also get the Plan both in short and medium terms.
He stated: "The Plan for 2020 assumed that we would get to 2020, but before we get to 2020, you must face 2017.
Now for you to have that, you need to have government spend on investment, not wasting resources.
"Now the exchange rate and petroleum subsidy are the biggest drain on government resources. When you talk of taxes, one of the ways to address the tax base is to eliminate or reduce subsidy so that the government will have more to spend. We talk about sale of assets; government should use the proceeds on impactful in-
vestment.
"The Plan actually addresses some of these issues but the time frame is short, because we have a short term frame which is recovering from recession, then we have the medium term frame and then the long term plan."
We need economic, political restructuring – Alex Otti:
For the former Managing Director of Diamond Bank Plc, Dr. Alex Otti, the bane of the economy is the structural weakness.
Therefore he stated: "I thank Professor Soludo for talking about some of the things that I thought we should be addressing.
One of them is the structure of the Nigerian economy.
"When you look at the oil economy that we claim we are, you find out that oil contributes just about 7.15 percent of the GDP. Mean while, it also contributes over 90 percent of our foreign exchange earnings.
That means something is wrong. The part of the economy that contributes about 95 or 93 percent contribute less that 10 per cent of our foreign exchange earnings and that is where I come to the issue of structure.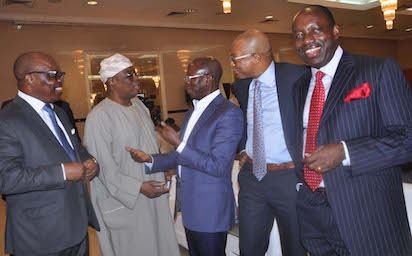 "Our current situation has presented an opportunity for us to re-examine ourselves and begin to think of what we can do differently and I think one thing we need to do dif-
ferently is to look at the structure of this economy.
Nigeria cannot sustain the kind of Presidential system we operate. It is wasteful.
Subscribe for latest Videos