By Prisca Sam-Duru
Atlantic Triangle, an  exhibition of artworks organised by the Goethe Institute, Lagos, is set to tell  the historical reconstruction of the conditions of exploitation through timely configuration of cultural dynamics and interdependence of the Brazilian Quarter in Lagos.
The exhibition which is  part of a larger project that includes shows at Saracura Art Space (Riode Janeiro) in June, 2017, and the 11th Mercosul Biennial in Porto Alegre (Brazil) in April, 2018 will feature these artists; AbdulrazaqAwofeso (Nigeria), George Osodi (Nigeria), Karo Akpokiere(Nigeria), Ndidi Dike(Nigeria), Andréas Lang, Germany , Mario Pfeifer, Germany, Iris Buchholz Chocolate, Germany-Angola, Arjan Martins, Brazil, Dalton Paula, Brazil, Vivian Caccuri, Brazil and Jaime Lauriano, Brazil. Also to be exhibited areselected works of traditional Nigerian sculpture from the Femi Akinsanya collection, Lagos.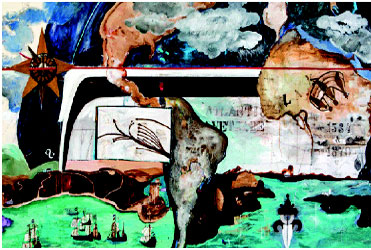 Speaking of the exhibition, Director of Goethe Institut, Mr Hug Alfons disclosed that "the Goethe-Institut, Lagos, is located right in the middle of what is known now as the Brazilian Quarter, a district reminiscent of the old towns in Rio de Janeiro or Salvador-Bahia, constructed in the 19th century by a group known as the Retornados.
To the Retornados called Amarôs or Agudas in the Yoruba language, Africa represented a promise of a return of history and of mercy. Constructions by Brazilian master-builders such as Water House, Ebun House,  the Shitta BeyMosque, and other landmarks in old Lagos, now scarred by the ravages of time, clearly cling to a past that is in danger of being swept away by the megalopolis and its 22 million inhabitants.
On the far side of the Atlantic, in Rio de Janeiro, construction work for the Olympic Games unearthed the foundations of the former slave market at Cais do Valongo, where more than one million slaves were sold between the 16th and 19th centuries." added Goethe Institut director.