Secretary of State, Rex Tillerson, on Wednesday, said U.S. would set up "interim zones of stability" to help refugees to return home in the next phase of the fight against Islamic State and al Qaeda.
Tillerson made this known while addressing a meeting of 68 countries gathered in Washington to discuss the fight to defeat Islamic State in Iraq and Syria.
The top U.S. diplomat did not make clear where these zones were to be set up.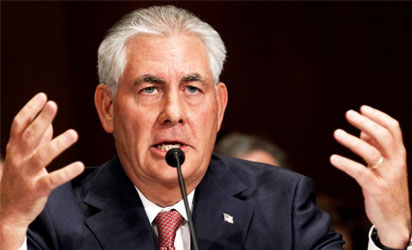 "The U.S. will increase our pressure on ISIS and al Qaeda and will work to establish interim zones of stability, through ceasefires, to allow refugees to return home," Tillerson said.
Although it was unclear how the zones would work, creating any safe havens could ratchet up U.S. military involvement in Syria and mark a major departure from President Barack Obama's more cautious approach.
Increased U.S. or allied air power would be required if President Donald Trump chooses to enforce 'no fly' restrictions, and ground forces might also be needed to protect civilians in those areas.
Islamic State has been losing ground in both Iraq and Syria, with three separate forces, backed by the U.S., Turkey and Russia, advancing on the group's Syrian stronghold city of Raqqa.