By Chinonso Alozie
Owerri—Governor Rochas Okorocha of Imo State, yesterday, pleaded with the Owerri branch of the Nigeria Bar Association, NBA, to identify with his administration's policies and programmes.
Okorocha stated this in Owerri, through the state's Attorney General/Commissioner for Justice, Mr. Miletus Nlemadim, during the 2017 law week organized by the Owerri branch of NBA.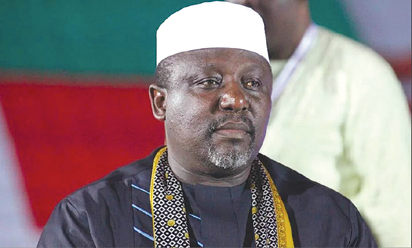 Nlemadim called on the NBA,   to key into the ideas of the rescue mission agenda of Okorocha, to move the state forward.
He also pointed out that lawyers should use the opportunity of the 2017 law week to take decisions that would bring about quick delivery of justice.
He said: "Rule of law serves the interest of justice, rule of law is social justice, economic growth as well as eradicate poverty in the land. It also promotes human Rights."
However, the Chairman of Owerri branch of the Nigeria Bar Association, NBA, Mr. Lawrence Nwakati, said the NBA would continue to stand with " the suffering masses of Imo state" adding that the unsavory situation staring them in their faces remain unacceptable.
Nwakati said: " May I use this medium to commend the Chief Judge of Imo state, Justice Paschal Nnadi and you brother Judges of Imo state judiciary for the uncommon support you have extended to this administration since inception.
"We thank you. To our colleagues, who have through toil and stress paid for this programme to be a success today, we say a big thank you. We are not unmindful of the serious economic meltdown today to which all of us are one way or the other, victims. God shall replenish us accordingly.
"The Bar in Owerri has come of age long practice of relying on the government of the day for assistance in financing some of its activities.
"We must align ourselves to the suffering masses of Imo state in refusing any Greek gift that will tend to compromise our independence and by extension our ability to criticize the government and all state agencies for the good our people.
"This must however not be misunderstood to mean that we are fighting the government. Far from it, our job are complimentary and aimed towards building a free, fair and just society for all."