Mr. Bola Ajomale is the Managing Director/CEO, NASD OTC Securities Exchange Plc, the promoter of a trading network that eases secondary market trading of securities of unquoted public companies in Nigeria. In this interview with Financial Vanguard, Ajomale said that activity was dull at the NASD in 2016, but expressed optimism that as more companies comply with the Securities and Exchange Commission, SEC's directive for shares of all public companies to be registered with it, there will be increased activity in the market. He spoke on various other issues. Excerpt:
By Nkiruka Nnorom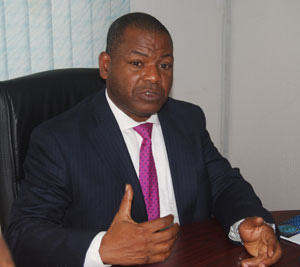 HOW will you rate activity at the NASD in the past year?
2016 was a very slow year. We did approximately less than a quarter of what we did the previous year. I will say it was almost like a 70 per cent drop in activity in comparison to what we did the previous year because we saw a lot of investors leaving the country; we saw slow down in activity in the market; we saw rapid change in exchange rate, we saw a drop in oil prices as well. All of these meant that people were not reinvesting more in shares as quickly as they would normally. So, we saw a downturn in activity. But we also saw improved financial and corporate responsibility and reporting. About 50 per cent of the companies on our platform held their AGMs during the year and about 25- 30 per cent of them declared dividend.
Increased financial responsibility
So, last year was a mix of low activity, increased financial responsibility and increased awareness among investors that there is another market where they can trade. Last year, we also expanded our product offering to open up to trading bonds, as well as equities instrument. We made foray into the private equities market. All these are initiatives that we would be following up on this year and we intend completing this year.
What are your expectations for the capital market, specifically for NASD as the year progresses?
For the capital market as a whole, I think it will be a very slow, muted return to activity. We have been tentatively at somewhere between 1.3 and 1.6 per cent growth; those are the estimate. At least, if we match that level of growth, it is turnaround from the decline and recession we experienced last year. I always like to start from the macro picture and because of the volume of interest in investment activity that we are seeing; I believe that this year, there will be a bit of turnaround, but a very slow turnaround. We think that the activity will stabilise and by the second and third quarter, we will continue to see increase in activity during that period of time.
We do know that some companies are preparing to be listed on the NASD. Can you highlight some of these companies you have approached and those that have given their consent?
I will not mention the exact companies we have approached. When they do come into the market, you will hear about it. We are anticipating that some companies in the agro-allied industry will come in; we expect some small scale companies in the technology area, we expect companies from entertainment area, specifically from the sports area, we expect them to come into the market as well. Those are the kind of activity we will see. Ultimately, we will see a lot of companies that are in the export-oriented business come into the market as well as those in import substituting.
We do know that there could be some regulatory challenges and probably this may have been a hindrance to some companies coming to list. What are some of these challenges and how do you intend to overcome them?
From what I can see, some companies have not completed their registration with the Securities and Exchange Commission, SEC. If they do not complete their registration with the SEC, they cannot trade their securities on a public market. Now, what that also means is that such companies are restricting the ability of their shareholders to trade in a public market. So, they are really cheating their shareholders if they don't register with SEC. We know of about 100 of such companies that have not completed their registration with the Securities and Exchange Commission. Some of them are in the process of doing it and some of them are still making arrangement for them to fully register as public companies. So being registered as a public company does not stop at going to the Corporate Affairs Commission, CAC; you have to register your shares with the SEC. Some of these companies have not done that and that is one of the regulatory restrictions for companies coming to the market.
The association of stockbrokers requested for an extension of deadline for them to standardise and recapitalise their operation. What is your take on this as an operator in the NASD?
The apex regulator has set a time and they believe that time is reasonable and can be met. If the apex regulator believes that the time can be extended, I am sure they will. If the apex regulator believes that such companies have not met their requirement and are certain they should merge or find some other means of recapitalising or should even drop down into a different category, the apex regulator should be the one to interpret and affect their own ruling. Regarding the brokers meeting the standard, every industry has its standards, when they are going to implement the standard is subject to the demands of the environment. So, if brokers are saying they cannot meet those conditions because of the environment they are somehow right,  then obviously everybody, that is, all hands must be on deck including this trading platform and all regulators must look at it and say 'what else can we do to assist these brokers to continue and also meet these requirements'. So SEC has identified that these are important conditions for you to meet. It is up to the SEC to determine when they have to meet it, whether they want to do an extension and again, what are the remedial actions that can be taken if they do not meet it.
If you look at the market, some companies were delisted from the stock exchange last year and there is this view that they will come to your platform. Do you see them coming, are they showing signs of coming?
It is not a matter of whether they want to come or not. If it is a public security, and it is not trading on any platform in Nigeria, the investors in that security can trade it on NASD. It is strictly different from a company just coming and applying to list. This is a service we are providing to investors. So, if the investors in those companies want to trade their shares, they can bring them into this market, just like if you want to sell your car and you take it to Jumia. There is nothing saying you cannot take your car to Jumai or Konga to trade. The same thing applies in this market;  if you have shares in a public company that is not trading anywhere else, you can bring it to NASD. We will give you a code and you can offer those shares for the public to buy. That is the first thing. The second thing is that we are creating a category for de-listed securities. So, if you are de-listed from any other market, you go into that category as a company that has been de-listed. Most of the time, the reason they are in that category is because they have not met some certain conditions. Until they begin to meet those conditions that our market requires, they remain in that category as de-listed securities that the stock exchange does not want, but the shareholders can trade if they want to.