By Enyim Enyim
ONITSHA—Former Governor of Central Bank of Nigeria, Professor Charles Soludo may have finally pitched his political tent with the All Progressives Grand Alliance, APGA.
Indications emerged weekend when he openly campaigned for the second term of  Chief Willie Obiano that Soludo may have pitched his tent with the governor's party.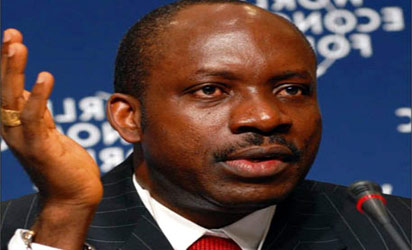 Soludo equally announced publicly that he and his family would vote for APGA in the scheduled  November 18  governorship election in the state.
Speaking as a guest lecturer on the third anniversary  of Governor Willie Obiano held at the Government Lodge, Amawbia, Soludo declared that there was no vacancy at the Government House, Awka till after Obiano's second term.
He advised governorship aspirants to join the incumbent governor in the development of the state.
" In my view, there will be no vacancy in Anambra Government House in the next four years.You do not change a general in the middle of a battle. If you can"t bend it, why mend it?"
He added: "For me and my family, we will thumb print on where a cock is drawn on the ballot paper.
"l implore our brothers who would be running up and down with cash for the election to rather invest their money in building industries and creating employment as well as boosting our economy".
According to him, political power is ephemeral while economic power is permanent which must be sustained. He  advised that Ndigbo must maximize the emerging global world.
"We must therefore stop reading the book of lamentation and start singing the songs of Solomon. We need to maintain  'the Anambra my permanent home philosophy," he said.