By Tony Ubani
Watching Issa Hayatou's men hustle at the Radisson Blu hotel in Addis Ababa for their last minute campaign to extend the 29-year reign of the Camerounian reminded me of the words of Richard Jefferies on despots and their stooges.
Jefferies wrote, ''No tyrant, however evil, has yet lacked ready hands to execute his most abominable will. To read how eagerly men have rushed to serve the despot is the bitterest, the saddest matter of history; it is the saddest sight in our own day''.
70-year-old Hayatou was seeking an eighth term to take his leadership of the African game into a fourth decade. Many frowned at his long stay in office while others cried over his age. But to see men desperately working to see him win again put me thinking.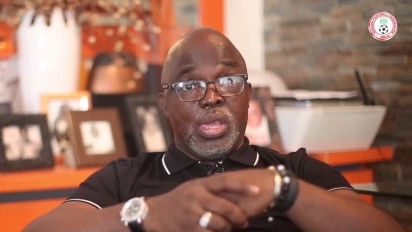 And in the heat of the moment, one man's name was being mentioned at will for leading the uprising against Hayatou. He is a Nigerian and President of the Nigeria Football Federation, NFF, Melvin Amaju Pinnick.
''Pinnick is a small boy and he is the leader of this uprising against Hayatou. We'll teach him a bitter lesson when Hayatou wins. Hayatou is a blessing to African football. Hayatou is the best thing to happen to African football'', Moucharaf Anjorin, President of Benin Football Federation spearheading the return of Hayatou shouted.
On the other side, Pinnick, a smooth operator who, together with Zifa president Phillip Chiyangwa spearheaded the successful ouster of Hayatou locked all their faithful in one room to hinder any infiltration from Hayatou's men.
Pinnick did not mince words when he came out from the nocturnal meeting to predict that Ahmad from Madagascar will win by landslide. He put the number of votes for those calling for change at 33. Not many took him serious because of the fear of incumbency powers.
But 34-20 vote which pushed Hayatou out made Pinnick a bride of African football. For a man not many Nigerians gave any chance of surviving the turbulence of  the politics of African football, he suddenly became a star. A journalist  remarked, ''see how they are hailing Pinnick but back home he is treated like a leper''.
Truly, Pinnick's rise to become the third Nigerian to occupy the exalted position of member of Executive Committee of CAF after late Oyo Orok Oyo, and Dr Amos Adamu happened with so much controversy. Nigerians in CAF cried wolf, Sports Minister Barrister Solomon Dalung directed Pinnick to vote for Hayatou.
In all this, there was no Government backing like setting up of a committee to ensure that the young man representing Nigerian wins. There was no official Government delegation to give weight to his campaign. But determined to succeed where others failed, Pinnick pushed by ambition and passion went like a bull, saw and conquered.
And for the men who pushed against the tide to see Hayatou continue in office for their personal gain, there is always a time their reign ceases, their influence  quenches, and their power disappears. Nothing lasts forever!