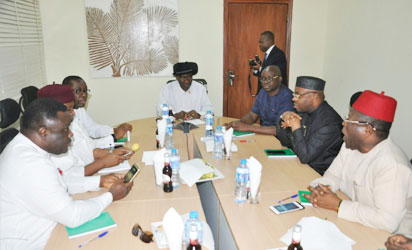 Jonathan, PDP Govs in closed-door meeting over party crisis
By Chimaobi Nwaiwu.
Nnewi – Peoples Democratic Party, PDP, faithful in the country and in the Diaspora have been urged to observe 21 days fasting and prayers for the party which will commence from March 15 to end on April 5, 2017 as a solution for the crisis rocking the party, just as they have been told to plead with the former National Chairman of the party Senator Barnabas Gemade, to forgive them for wrongful removal from office.
Also the party has been urged to prevail on former President of Nigeria, Dr Goodluck Jonathan, the Deputy Senate President Chief Ike Ekweremadu, Governor Ayodele Fayoshe, and the party's Board of Trustee, BOT, Chairman and other top party faithful and stakeholders to plead with Senator Barnabas Gemade to forgive and forget the alleged mistreatment given him while he was the national Chairman of the party.
Addressing newsmen yesterday in Onitsha, National Chairman Prayer Squared Peoples Democratic Party, PSPDP, Pastor Joshua Dikeogu alleged that the party is under course allegedly place on it by it former National Chairman, Chief Gemade when he was forcefully removed from office and plead with Chief Gemade to forgive the party and all the faithful for the alleged ill treatment.
According to Pastor Dikeogu, "the problem of our great party is giving me sleepless nights and great concern, when I look around and see other party's rejoicing and jubilating over the crisis in our party, I have spent weeks in fasting beckoning on God to restore peace and glory to the biggest party in Africa."
"It was during the period that the spirit of God laid in my heart to plead to all PDP faithful, within and outside the country to observe 21 days fasting and prayer to destroy the demon that wrecks havoc in our party.
God also revealed to me the root cause of the problem and crisis in our party, saying that "PDP is under curse placed on it by Senator Barnabas Gemade but carnal mind cannot understand the things of the spirit, when Chief Gemade was forcefully removed from office as National Chairman by Chief Olusegun Obasanjo under whose administration he was the National Chairman, he left quietly and placed a curse on the party.
"Gemade out of anger pronounced a curse that befalls any subsequent National Chairman of PDP, to be worse than what he was made to suffer and from history, from that day till date no other National Chairman of the party completed his four year tenure except Dr Ahmadu Ali, that is the power of curse."
Using Judges chapter 9 verse 1 to end as reference for the party faithful to know the efficacy of curse , PSPDP plead with the party big wigs to invite Chief Gemade for reconciliation and urged him to forgive the party even if he is not coming back to it
According to PSPDP, after the twenty one days fasting and prayers, it will bring comprehensive prayers for the party, and it will be compiled in booklet and in DVD which every member of PDP will get a copy to pray along according to Christians and Muslims doctrine.