By Egufe Yafugborhi
WARRI—THE Olu of Warri, His Majesty, Ogiame Ikenwoli, yesterday, pledged moral and material support to the Sola Mese Foundation in its mission to engage helpless ex-convicts in gainful endeavours to guard against their return to crimes after serving their prison terms.
Ogiame Ikenwoli made good his pledge with a donation of N500,000 at his palace in Warri, Delta State,  where Sola Mese, founder of the foundation led volunteers to intimate the Warri monarch of its mission and to seek his support.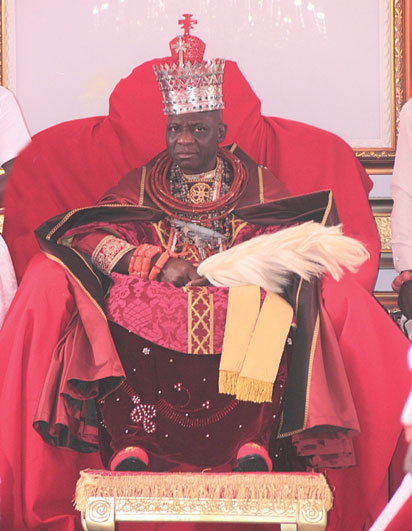 Mese told the Olu: "Many ex-convicts go to prisons for offences committed under the influence of drugs. The police cells where their trial starts and the prisons where they serve their sentences, do not offer meaningful counselling for reintegration into society when they are eventually released.
"Out there after prison sentence, society, including relatives of ex-convicts do not fully accept and accord them the support and love they need. That is where we come in."
We have structures to receive and engage them in gainful skills after leaving prison to be useful to themselves and society."
Responding, the Olu said, "This project is a laudable service to humanity. People are really depressed and need support. If you don't have a relative who is a drug addict or and ex-convict, the fact that you are living in a sane society makes you affected by other's criminal behaviours.
"Obviously it is an enormous task to set for oneself the responsibility of changing the minds and behaviour of the criminal minded in society. So we will give you all the support we can to ensure that this dream does not die."