Chairman of the Nigeria Football and other Sports Supporters Club, Vincent Okumagba, has hailed the election of the President of the Nigeria Football Federation (NFF) into the Executive Com-mittee of the Confed-eration of African Football (NFF).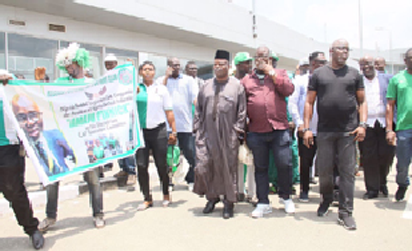 Pinnick, an accomplished former Chairman of the Delta State Football League and Delta State Sports Commission, is riding on the crest-wave of excellence after becoming the third Nigerian, after the late Orok Oyo Orok and Dr. Amos Adamu, to secure a seat in the top echelon of African football administration at the CAF Congress held last Thursday at the AU House, Addis Ababa.
After riding against the roughshod thrown at him by his adversaries in Nigeria, Pinnick sealed his place in the sands of time with his victory. Pinnick is also a member of the Organising Committee for FIFA competitions, the second most powerful committee in FIFA.
And speaking yester-day to Sports Vanguard, Okumagba, who led his members to roll out the drums to welcome Nigeria's newest CAF member on arrival, said Pinnick's elevation was going to usher in a new lease of life for Nigerian football.
He added that the rise of the NFF president will place Nigeria in its true leadership position, noting that the era of playing second fiddle by Africa's most populous black nation is well and truly over. "His election in the CAF exco is a big deal for us in Nigeria because he is a dynamic young man who thinks out of the box, unlike some who sheepishly follow the wagon, irrespective of the direction it is heading.
"I am confident that Nigerian football will witness positive changes and that we will take our rightful place in the comity of nations. We will no longer be giants by mouth, now that we have a very pragmatic and dynamic leader in CAF to push our case through," added Okumagba.