By Victor Ahiuma-Young
NIGERIA Labour Congress, NLC, and its Trade Union Congress of Nigeria, TUC, counterpart, have written to Governor David Umahi of Ebonyi State, seeking a meeting over pension deduction from workers' salaries without an enabling law.
A letter by Ayuba Wabba and Bobboi Kaigama, President of NLC and TUC, respectively, proposed Tuesday, March 14, 2017 or on a date more convenient to the governor to resolve all outstanding issues before things go out of hand.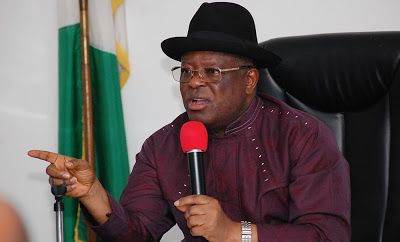 The letter read in part: "Members of our state councils in Ebonyi State have brought to our attention the following complaints: Pension deductions from workers' salaries commenced before the Ebonyi State Pension Bill became law, thus making the law to operate retroactively in contravention of the fundamentals of all good laws.
"The said law states that the ratio of contribution to the pension fund shall be five percent employer and eight percent employee in contravention of the provisions of the Pension Reform Act (2004) as amended which puts the ratio at a minimum of 10 percent employer and eight percent employee.
"The state government commenced the implementation of the new pension law without first putting in place requisite processes or structures such as adequate sensitization by National Pension Commission, PenCom, and the state government as to the rights of the workers in the scheme, appointment of Pension Managers, establishment of pension management boards at both local and state governments."