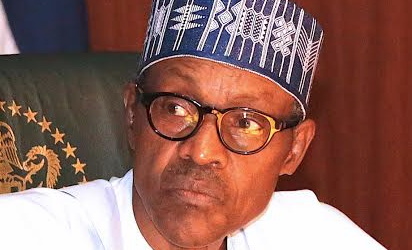 President Muhammadu Buhari
*We won't support restructuring — ACF'
By Emeka Mamah, Clifford Ndujihe & Gbenga Oke
LAGOS— SOME eminent Nigerians have urged President Muhammadu Buhari to take immediate steps to restructure Nigeria and prevent the country from disintegrating.
According to them, the unity of Nigeria and harmonious co-existence of the various ethnic nationalities will be deepened by fiscal federalism and restructuring of the polity.
Eminent Nigerians who shared this view include elder statesman and Ijaw leader, Chief Edwin Clark; former Secretary-General of the Commonwealth, Chief Emeka Anyaoku; Afenifere elder, Chief Ayo Adebanjo; President-General, Ohanaeze Ndigbo, Chief John Nnia Nwodo and Professor Biyi Afonja.
They spoke at a dinner, weekend, held by old members of the Sigma Club of University of Ibadan for Chief Nwodo, in Lagos.
However, Arewa Consultative Forum, ACF, and Second Republic lawmaker, Dr Junaid Mohammed, disagreed and urged the eminent citizens not to blackmail Nigerians into an unclear and bogus system of government.
Speaking at the dinner, Chief Clark said: "Nigeria is very sick today. The Nigeria, which our founding fathers like Chief Obafemi Awolowo, Dr Nnamdi Azikiwe and Sir Ahmadu Bello bequeathed to us, is no longer what we have. At independence, we had a constitution that said there would be three regions, no one is superior to the other.
"President Buhar said that we must kill corruption or  corruption will kill us but I say restructure Nigeria or non-restructuring of Nigeria will kill Nigeria."
Also, Chief Adebanjo, who commended Ndigbo for electing Nwodo as Ohanaeze President-General, said his election came at a time people like him were needed to move Nigeria forward.
To Chief Anyaoku, the value system has collapsed in Nigeria and the development is hugely responsible for the menace of graft in the country.
Averring that Sigma Club is a club of gentlemen with values, he said we must strive for the values of integrity, hardwork and belief that good character is far above irresponsible personal wealth.
We won't support restructuring— ACF
Meanwhile, Arewa Consultative Forum, ACF, yesterday, rejected the call for the restructuring of the country to ensure true federalism, saying what the country needed was competent leadership at all the levels of government and not doing anything that would weaken the centre.
National Publicity Secretary of ACF, Mohammed Ibrahim, made this known in a telephone interview with Vanguard last night.
He said: "Nigerians fought for the unity of the country. It is not possible for the north to support anything that would cause disunity in Nigeria."
They should stop blackmailing Nigeria – Mohammed
Similarly, Dr Junaid Mohammed, in a telephone chat with Vanguard, kicked against the call for restructuring, arguing that none of those calling for the restructuring of Nigeria had been able to give a clear cut definition of what they meant.
He also said majority of the personalities calling for restructuring were trying to blackmail Nigeria, saying "until somebody can tell me what this restructuring is all about, I won't be convinced about the call.
''These agitators of restructuring like Clark, Nwodo and others have not actually told us what will be restructured and how it will be done. That was how we were told that without Sovereign National Conference, Nigeria will break up."