By Chioma Gabriel who was in Barcelona, Spain
Abdur – Raheem Adebayo Shittu is Nigeria's current Minister of Communication. A lawyer from Oyo State, he had his first degree in Law from the University of Ife now known as Obafemi Awolowo University (OAU), Ile-Ife.
At 26, he became the youngest member of the Oyo State House of Assembly when he served from October 1979 to September 1983.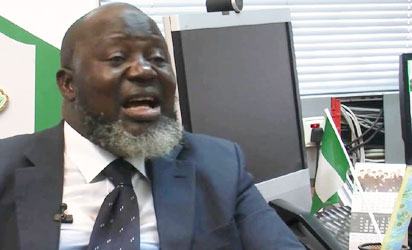 He also served as the Commissioner for Information, Culture and Home Affairs between October and December 1983.
He was appointed as the Attorney-General and Commissioner for Justice in Oyo State under the Ladoja administration.
Adebayo Shittu spoke with Vanguard in Barcelona, Spain at the just-concluded Mobile World Congress,MWC.
Excerpts:
You came all the way from Nigeria to see these great exhibitions of technology from all over the world. What are you taking home from here…?
This is not my first time of coming here. Secondly, this is not my first time of attending such exhibitions. Thirdly, it is not the first place I will come and interact with operators, producers and manufacturers of mobile infrastructure and solutions.
I have been to many parts of the world and each time I go out, I see things and recent developments that tend to diminish my citizenship of Nigeria, because when other countries are making steady progress, Nigeria has been in stagnation particularly to development and innovations.
My reason for coming here is to use this opportunity to meet with stakeholders, operators and innovators in the telecom industry and try to encourage them to come and invest in Nigeria.
Only this morning (March 1), I met with Swedish Minister of Communications on ICT and my appeal was that they should send a delegation to Nigeria to come and interact with government officials with a view to bringing in their investments in the area of ICT to Nigeria.
ICT development depends on electricity for survival .If we invest in ICT and there is no electricity generation, then there would be stagnation…?
I have discussed with the Swedish Minister of Communications on ICT and also with the Huawei group. They have developed a lot of solutions. Particularly, today in Nigeria, you discover that a lot of towers and masts are all over Nigeria and each cost about N40 million to install. Besides, the N40m to mount each mast, you have to have a generator by the side to empower them, buy diesel everyday to empower them. That makes it difficult for operators to survive.
There are a lot of solutions to that which does not depend on hydro-generated power. There is solar energy which is cheaper and simpler. I saw a particular device here which is so diversified that you can even use it for security purposes and also advertise goods and services. I have talked to the Huawei group. If they are able to bring these samples to Nigeria, we will invite all operators in the telecoms sector to see these new innovations with a view to keying into it.
So, for me, this is a working visit for the purpose of using my persuasive ability to attract investors and innovators to Nigeria in order to add value to the way things are done in Nigeria.
Do you think Nigeria will ever meet up?
I think what is important really is starting. We can't easily catch up with them because they started 20, 30, 40 years ago whereas we are just starting. But if the political will is there, we will make it. What is important is mobilising everybody in government and other stakeholders to see ICT as the way to go in Nigeria.
There are many countries who have moved on ICT way but Nigeria is so dependent on oil and we cannot match up easily with the way ICT is going because ICT is the greatest enabler of every aspect of life. Our living, business, governance and economy, e-commerce, e-agric, e-transportation is all dependent on ICT and Nigerians must be alerted to that. We must sensitize ourselves, educate ourselves and inspire ourselves to provide that leadership.
On your invitation to the Swedish Minister, Nigeria has had tons of such trade delegations visiting but we haven't had a corresponding achievement ..?
I am the Minister of Communications today, I know that I have passion for what is desirous for our development. As a public servant who works in the interest of the public, I am determined to make a huge improvement in that sector. I think it is our duty to provide leadership in Africa and I'm doing that at no cost to them. I will offer myself to bring the entire private sector mobilised to key into innovative development and progress.
ICT thrives on infrastructure and we all know that infrastructure is a huge problem in Nigeria. How would you do it?
A journey of a thousand miles starts with a step. We cannot be complacent by saying because infrastructure is not available, so we won't work. The greatest infrastructure we need perhaps is electricity and government is trying to do a lot to bring about development in infrastructure. On top of it, I am also in the area of ICT and I'm thinking of electricity generated particularly from solar.
The industrialised world has done a lot of innovations which they captured with solar energy and I believe that if I have all the support from stakeholders, we will get there.
We have had infrastructure that were poorly managed and which later became obsolete, like what happened to NITEL and NEPA…
Let me say that NEPA and NITEL were government institutions and now, the policy thinking is that government has no business being in business and that is why government divested from NITEL and NEPA and all those. What government should be known for is to be able to help the private sector bring about all these things we are looking at. We don't have to get involved in the day to day running of electricity and telecommunication services. What we should do is to provide the enabling environment for the private sector to do the business.
Secondly, government should provide the best appropriate regulatory framework for them to operate. Thirdly, government is also to provide the appropriate banking and monetary policies so that they can come in and even utilise our banking system to operate. Once, we are able to do that, government doesn't have to necessarily get involved in establishing companies. We will be there as enablers and like I said, my concentration with regards to electricity is solar energy as the alternative means to providing electricity.
In the exhibitions that Huawei Technology displaced, I have seen different samples. I have also been to India and I have seen samples of accessibility. In India, the manufacturers use equipment that are also solar-based that provide networking and internet access to rural communities and all of these come with development and I hope we will get there.
There have been solar attempts in Lagos that failed in many occasions and where they worked, they didn't last long because the panels didn't survive…?
I don't know the infrastructure Lagos uses. Lagos experience may just be one model from one company. We have to test so many alternative manufacturers to see what could be sustainable. But what Huawei has done is a starting point for us and there will continue to be improvement until we are able to get to the optimum that we desire. One thing you must know is that solar is cheaper and more reliable because with solar, you could have solo equipment supplying a community. It doesn't have to be a network.
Finally, 5G is the buzzword word here. In Nigeria we are still struggling with 4G and besides, the consumers feel the government is protecting the network providers
If you don't protect the network providers, there won't  be networks. So, you have to first protect the hen that is laying the eggs before you can have the eggs. But having said that, I want to also say that government is concerned about quality of service for the ordinary citizens.
There is no poor quality of service that ordinary Nigerians suffer that government does not suffer. We'd continue to put pressure on the providers of service. In fact, we have had to apply the carrot and stick approach to have them do their job.
We also know that the circumstances in the environment which they operate is not particularly favourable. It is only in Nigeria that service providers have to rely on their own source of power and these are killing them. We must not shy away from the negative factors coming from the Nigeria state. We are making efforts and will continue to put pressure on operators.
As a matter of fact, Nigeria now has many service operators and there is competition among them. Any of them that performs poorly is doing itself and in 2017, we are committed to ensuring that they perform their operations well.