By Chioma Gabriel, in Barcelona, Spain
The Minister of Communication Abdul Kareem ,Adebayo Shittu has identified reasons why Nigeria and other countries in Africa are backward in ICT development.
Speaking with Vanguard at the ongoing mobile world congress in Barcelona, Spain, Adebayo Shittu said that unlike other civilized nations who are manufacturers and innovators in ICT development who started 30,40 years ago, Nigeria is just warming up.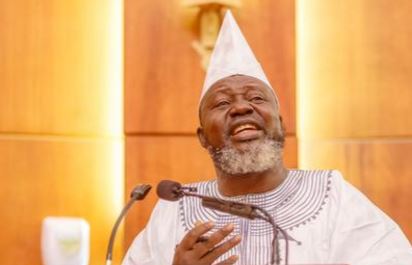 He however promised as communication minister to take Nigeria to the next level in ICT development.
After going round the exhibition hall of Huawei Technologies,  Shittu said  "I indeed, I have come, seen, but don't  know when Nigeria will conquer. But what is important really is starting but we cannot really catch up now. But if the political will is there, we will make it.
'What is important is mobilizing everybody in government . I met the Swedish communication minister on ICT in this conference and I have invited him to Nigeria to bring investors in this regard at no cost to them.
"I am determined to make a huge improvement in Nigeria's  telecoms sector as minister and I am putting everything to it. ICT is the way to go in this age and the whole world is embracing it.".