By Emma Amaize
YENAGOA—Niger Delta Revolutionary Crusaders, NRDC, yesterday, questioned the razing of 80 illegal refineries across Bayelsa, Delta and Rivers states by soldiers, despite recent assurances by the Acting President, Professor Yemi Osinbajo, that the Federal Government would establish modular refineries to engage Niger Delta youths involved in the business.
The militant group, in a statement by its spokesperson, W. O. I. Izon-Ebi, said that the Joint Task Force in the Niger Delta, JTF, codenamed Operation Restore Hope, was not helping the peace-building process in the region with its actions.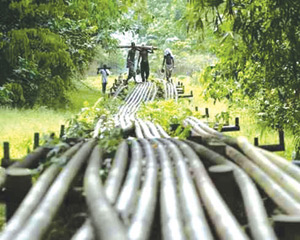 The statement said: "NDRC condemns in strong term the burning of illegal refineries in the Niger Delta at this time of finding and building a lasting peace process.
"We believed the Acting President, Osinbajo, when he promised that the Federal Government will assist the illegal refining operators by establishing modular refineries in line with international best practices.
"We had thought and advised that the illegal refineries should have been sealed, rather than burnt. The burning of illegal refineries is not doing the Niger Delta any good.
"Instead, it is polluting the entire eco-system; that is the main reason the people of Port Harcourt and some other parts of the Niger Delta are experiencing soot.
"This unprofessional act of the Army is not helping the peace-building process and the dream of the Federal Government and the tireless efforts of the Acting President.
"We are also using this medium to warn all pirates and kidnappers along the Logbia, Brass and Bille creeks in Bayelsa State to stop their criminal activities."