Men, especially those older, have been advised to engage in less sexual activities to manage back pain. Speaking under the topic Back and Spine Health at the Quarterly Health Talk of the Lagos Country Club, Ikeja, a Consultant Orthopaedic Surgeon at the National Orthopaedic Hospital, Igbobi, Lagos, Dr. Tunji Babalola said during sexual activity, the back aches involuntarily as to cause so much pain.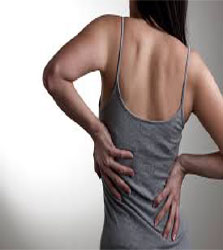 Defining the back as the place just behind the neck down to the waist he said, "Most patients have fracture at the back during sex but wouldn't know because the sympathetic discharge won't let you feel the pain as it has overridden everything at that stage."
Babalola disclosed that studies have shown that other animals don't have backaches. He pointed that back pain is the price human beings are paying for standing upright unlike all other animals who walks on four legs. He said once there's an injury to the back, it can never remain the same.
Causes of back pain are inborn, developmental and acquired. The acquired is inescapable for all men and women as wear and tear sets in at old age. Poor sitting position is major reason humans experience back pain.
"When you sit, your feet should be on the floor at 90 degrees to your leg, leg also at 90 degrees to your thigh, while the thigh to your waist should also be at 90 degrees. And there should also be backrests and armrests. This practice will allow wear and tear associated with old age to come at natural pace."
Chairman, Health Committee, Lagos Country Club, Dr. Tunde Olujobi said the programme is timely putting into cognizance the global shift from curative healthcare to preventive.