A war veteran, Retired Gen. Olu Bajowa, on Wednesday described the late Maj-Gen. Adeyinka Adebayo as a pillar of unity that ensured the West did not break away from Nigeria during the Nigerian civil war.
Bajowa made the remark during a condolence visit to the Lagos home of the late general in Ikeja GRA, Lagos.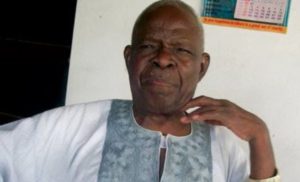 "We lost a doyen of the generals who ensured that the West did not break away from Nigeria during the civil war.
"He led a good life, taught us well, he led us particularly during the civil war when things were dicey and the roads were "cloudy".
"He was a pillar that helped Nigeria to be one at that time. But for him, the Yoruba would not join the war. He, with the counsel of Awolowo, led the force to fight the battle," Bajowa said.
He said that the best way to preserve the legacies of late Adebayo was for Nigerians to be patriotic.
"He (Adebayo) loved Nigeria, He made sure Nigeria remained united and that was his motive at that time as the governor of the Western Region.
"He did not allow the West to break when the East left. He and Awolowo insisted that the West must take part in the war and remain part of Nigeria.
"So, we kept on fighting the war," the general said.
Earlier, Chief Supo Shonibare, a leader of the pan-Yoruba organisation, Afenifere, described Adebayo as "the last of the founders of a united Yoruba nation".
Notable members of the Yoruba Council of Elders also paid condolence visits to the late Adebayo's residence eight days after his demise, pouring encomiums on the deceased.
Adebayo died on March 8, the eve of his 89th birthday.The late general served as the military governor of the then Western Region, comprising Oyo, Osun, Ogun, Ekiti, Ondo and some parts of Lagos State between 1966 and 1971.
Several dignitaries have signed the condolence register in his home to commiserate with the family.