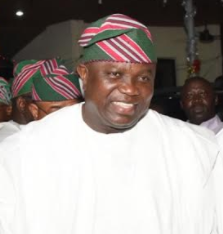 AMBODE
By Olasunkanmi Akoni
Lagos—Residents of Aboru, in old Alimosho Area of Lagos State can now heave a sigh of relief as Governor Akinwunmi Ambode of Lagos State, today commissions the newly constructed Aboru Link Bridge, aimed at easing the perennial traffic gridlock along the ever busy Lagos-Abeokuta Road.
The bridge, which was constructed on the initiative and approval of Ambode, will serve as link road for at least eight communities, including the neighbouring Ogun State. The bridge is also said to last for over 100 years.
One of the managers of the construction company who preferred anonymity, explained; "The 500 Metres Bridge, will link Iyana-Ipaja from Abule-Egba, it will also link Abesan Housing Estate on the right side. All commuters going to Abesan Estate, Ayobo-Ipaja, LASU-Iba and Okokomaiko can use the road coming from Sango-Otta, Ogun State and Abule-Egba.
"The bridge will have great impact. It will have direct impact on eight communities. The communities are Agbelekale, Aboru, Abesan, Iyana-Ipaja, Ayobo, Ipaja and all the environments. The bridge was never in existence."
Vanguard gathered that the area was entirely, a bush and was discovered by the governor who decided to construct the bridge to ease traffic on Lagos-Abeokuta Road.
According to the contractor, the bridge was designed to last for over 100 years. "It is a deck-on-pile bridge. It is sitting on piles. Its width is about eight metres and about 500 metres long.
"The bridge, also, came with some roads. For, instance, Giwa Road was constructed. Aboru road was constructed. Also, Ogunfisayo Street was constructed. Kasumu Street was constructed. It is about just the bridge.
Other roads came with it. We faced a lot of challenges. The terrain was difficult. It was swampy. Rain really disturbed there."
It was gathered that the bridge which could have taken about three or four years was constructed between eight and nine months.