BY JOSHUA ERUBAMI
Months after rice farmers were trained in Delta State for the Central Bank of Nigeria (CBN) Anchor Borrowers' Programme, the Federal Government, yesterday, flagged off the distribution of agricultural inputs to rice farmers in the state.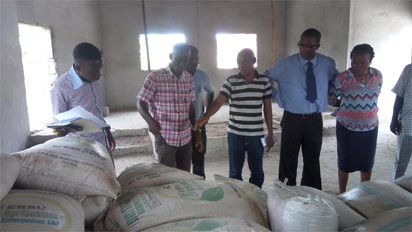 The inputs being supplied by the Federal Government are rice seedlings, fertilizers and other chemicals which the farmers are expected to repay upon harvesting.
In the first phase of the distribution held yesterday at Ugiliamai, Ndokwa West Local Government Area of the State, about 3.5 metric tonnes of rice seedlings was distributed among 24 farmers who are members of the Ike-Neli Farmers Multipurpose Cooperative Society.
The farmers are to cultivate about 26 hectares of land which is projected to yield about 91 metric tonnes of paddy rice within four months.
While handing over the seedlings to the beneficiaries, the Chairman of the Project Monitoring Team (PMT), Mr. Matthew Badaiki explained that the programme is part of the Federal Government's deliberate efforts to encourage genuine farmers in the country, adding that its primary target is to ensure rice sufficiency and improve the economy of farmers.
Badaiki urged the beneficiaries to embrace the programme with all seriousness, warning that the supplied input should not be seen as "a joke or political settlement".
"By signing to collect these inputs, you have keyed into the programme. You are to repay the cost of the inputs in the next six months; those who repay will be incorporated in the next phase of the programme but anyone who fails to repay will face disciplinary actions", the PMT Chairman warned.
Badaiki observed that unlike the conventional bank borrowing system, only paltry nine per cent will be paid as interest, inclusive of insurance cost, urging the beneficiaries to tap into agriculture which "is very lucrative".
Briefing newsmen, the anchor off-taker of the programme, Barr. Raymos Guanah described the programme as "a dream and anticipation come through as it will avail paddy rice processors the needed products to process.
He commended the Central Bank of Nigeria (CBN) as well as the Federal and State Federal Governments for supporting agriculture, urging the beneficiaries to key into the project and explore it to its fullest.