By Dayo Johnson
Akure—THE embattled Speaker of the Ondo State House of Assembly, Jumoke Akindele and five other principal officers yesterday resigned paving the way for a quick resolution of the over two-month leadership crisis in the hallowed chamber.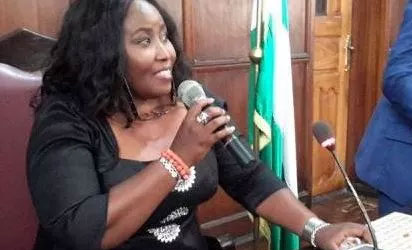 Other principal officers who resigned include the Deputy Speaker, Hon. Fatai Olotu, Majority leader, Hon. Ifedayo Akinsoyinu, Deputy Majority leader, Vincent Obadiah, Kemisola Adesanya, the Whip and Towase Kuti, the Assistant parliamentary Secretary.
The lawmakers said their resignation became imperative sequel to the new geopolitical arrangement and configuration in the state and to give room to peace in the state.
Also, the leader of the other faction, Malachi Coker and others appointed as principal officers after   Akindele's purported sack are billed to resign tomorrow.
A new set of principal  officers may emerge before the end of the week when both factions would attend plenary to jointly elect their leaders during a plenary to be presided by the Clerk of the Assembly, Bode Adeyelu.
Both factions have been laying claim to the speakership  of the Assembly and unable to agree on who to actually preside at the plenary.
This followed an agreement said to have been reached  with the state governor Rotimi Akeredolu SAN who met with both factions severally.
The leadership tussle in the 8th assembly have pitched a faction of the lawmakers against the governor who they accused of recognizing the other faction.
But surprisingly, the speaker, Akindele and others threw in the towel via a letter dated yesterday and addressed to the state governor.
Meanwhile,  a plenary session held yesterday was attended by 12 of the 13 Lawmakers loyal to Malachi Coker and boycotted by the 13 other lawmakers in Akindele faction.
Coker who presided  over the plenary dissolved all standing committees of the eighth Assembly, but maintained that Ayodeji Iroju remained the spokesperson of the Assembly.
He ordered the police to withdraw the security details and retrieve all government properties attached to the former principal officers immediately.
Subscribe for latest Videos