…Demand fair treatment, others
By Olasunkanmi Akoni
Over 1000 Persons Living with Disabilities, PWLDs, mainly destitute across the 57 Local Government Areas of Lagos state, recently shut Governor Akinwunmi Ambode out of office for several hours protesting against what they called unlawful arrest, detention and "inhuman treatment" of their members in the state.
The protesters, under the umbrella of Physically Challenged Empowerment Initiative, PCEI, who stormed the Lagos State Secretariat, Alausa, Ikeja in a peaceful protest, presented four demands to the Governor for his immediate action.
It will be recalled that Lagos State Government outlawed street begging, hawking on its highway in which offenders are liable to various punishments according to the law.
The protesters arrived at about 10 am, and blocked the entrances leading to the Governor's office and complex of the state House of Assembly, preventing both staff and visitors from going or coming out.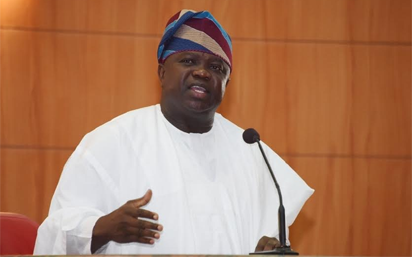 Even the heavy presence of heavily armed policemen of the Rapid Response Squad, RRS, deployed to maintain peace and restore normalcy did not deter them.
The policemen watched helplessly as they held sway, singing anti-government slogans both in pidgin and Hausa language.
They claimed they are bonafide Nigerian citizens and free to live in any part of the country.
Most of the protesters claimed that though, they may be physically challenged they are talented and could still work if government provide them with jobs.
A disabled, who identified himself as Ahmed, claimed that he took to begging when his gift items shop was demolished at Murtala Muhammed International Airport, by agents of Federal Government.
According to him, "I have a lot of family here in Lagos and Kano who I care for. Since government ordered the demolition of our shops at MMIA, I became a street beggar because I had nothing to do to fend for myself. As you can see I am a cripple. I am educated but I can't find any job to do other than begging."
Another visually impaired man, who begs on the streets of Lagos, identified as Adamu, said he was a graduate of Lagos State Skill Acquisition programme but after graduation the state government refused to employ him or give any financial support to start his own business. "That is why I am begging on the streets but government has sent officials after us to lock us up and maltreat us without any justification", he said
The height of the protest was when Governor Ambode was returning from an official duty and was prevented from gaining entrance to his office. The convoy had to retreat and passed through another entrance into the Lagos House.
The protesters rebuffed the representative of the Governor who was sent to address them, demanding to see the governor in person. They shouted: "we are ready to stay for days here if we don't see the governor." It took another delegation from the governor who conveyed Ambode's message with an assurance that their demands would be looked into within three days.
The protesters, reluctantly agreed to vacate but promised to return on the expiration of three days if their prayers were not answered.
Meantime, the Coordinator, PCEI, Mohammed Zanna, who led the placards carrying protesters, including teenagers, accused officials from the state's Ministry of Youth and Social Development, MYSD, of what he called "arbitrary arrest, unlawful detention for months without trial in a terrible conditions leading to health problems and even death."