Abuja – Nigerians have expressed divergent views on whether they would blow the whistle on their spouses if found to be corrupt.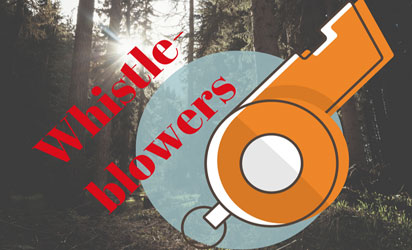 Some of them said that they could blow the whistle on their spouses if they committed acts of corruption, while others said they could only do so if the Whistle-blowing policy was backed by law.
Ibrahim Magu, acting Chairman, Economic and Financial Crimes Commission (EFCC), said he would blow the whistle on his spouse if she contravened the law of the land and acted in a corrupt manner.
Magu said the time had come for every Nigerian to get involved in the fight against corruption for the country to be a better place.
"I prefer to die fighting corruption if need be, so why will whistle blowing be a problem,'' he asked.
Magu said he would continue to fight corruption, stressing that corruption was everywhere in the country.
But a Legal Practitioner, Chief Mike Ozekhome (SAN), told NAN that he could never blow the whistle on his wife.
Ozekhome said no matter the level of her embezzlement, he would rather advise her not to engage in acts that could tarnish the image of the family.
Ozekhome, who is also a human rights activist, said: "Of what use is it for us to wash our dirty clothes in public.
"The Bible says the day you are married you become one flesh; the man and woman are joined together as one flesh, so blowing whistle on your spouse is blowing one on yourself,'' he said.
The lawyer also said that if a man's spouse was involved in a shady deal, it also reflected that the man was delinquent and undisciplined as far as his duty as a husband was concerned.
He said such if man was good and up to his responsibility his wife would not have committed criminality.
"So, it is not a good idea as it would only damage the home, separate the family and affect morality.
Mr Bayo Arigbabola, an Accountant, said blowing whistle on either of the party would likely end in divorce, and wondered what would be the fate of the children.
Arigbabola said it might be tempting to blow the whistle depending on the amount of money involved or the magnitude of the deals struck and the expected returns.
He, however, warned that for the safety of all involved, the future of the children and other consequences, it was better to keep the information to oneself.
"It is advisable to keep it to yourself because you don't know enough about the individuals involved and the circumstances behind it; and you may not be able to identify the risks either you or your spouse is being exposed to,'' he said.
A teacher, who simply identified himself as Mr Saka, said "a sinner should not go unpunished''.
Saka said he was a man of principle and if his wife was caught with such ungodly act, he would blow the whistle on her.
He called on Nigerians to blow the whistle on all corrupt persons.
Saka, however, cautioned Nigerians to wait until the government enacted a law to back the whistle-blowing policy.
He warned that blowing whistle most especially on somebody close to oneself without proper legal backing could be dangerous.
Mrs Regina Ndanusa, a business woman, said she would expose her spouse if found to be corrupt.
"I am a Christian and my bible says, if your right eye will make you sin pluck it off.
"I will actively expose corruption, I will whistle-blow against my spouse or any corrupt person, I cannot stand corruption; it is an abomination and dirty deal in the sight of God,'' Ndanusa said.
Ms Paulina Bazuaye, a Business Woman, said that she would blow the whistle on any corrupt person, be they her parents, close or distance relations, and would not mind the consequences.
Bazuaye warned that focusing on preventing and fighting corruption alone was not enough, as corruption had affected all segments of the society.
She said the fight against corruption was a multifaceted and complicated process that required synergy among all stakeholders as the menace had undermined the rights of citizens.
Hajia Azumi Sanni, a Pharmacist, also said she could blow the whistle on her husband if found to be corrupt.
Sanni, however, stressed that she would only do so if necessary anti-corruption and financial mismanagement strategies were put in place.
She said a lot of people who were willing to blow the whistle would not do so because the whistle blowing policy was not strong enough.
"For now, corruption will not be defeated unless we all play our part in curbing the menace and for us to do that there must be an efficient law in place.
"The whistle blowing law will serve as a protective measure and unexpected number of Nigerians will join government in stamping out corruption wherever it manifests itself,'' she said.
Musa Duru, a bus conductor, said he will only blow the whistle on his spouse if she was selfish with her loot.
He said the moment he realised that the loot would be beneficial to both of them he would embrace and protect her.
"If my spouse plays ball, shares the money with me, I would quench the light, block the whistle, rather than blow it,'' Duru said.
Subscribe for latest Videos