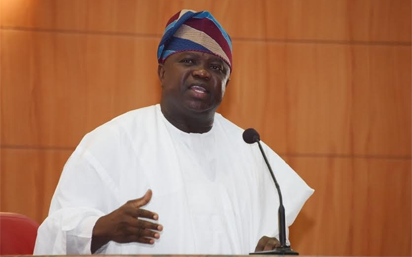 Lagos State Governor, Mr. Akinwunmi Ambode,
By Onozure Dania
The number of judges of the Lagos State High Court rose to 57 with the swearing in of three new ones by Governor Akinwunmi Ambode.
The judges, Justice Elizabeth Idowu Alakija, Justice Emmanuel Olugbemiga Ogundare and Justice Serifat Oloruntoyin Solebo, were presented to t
he Bar last Friday by the state's Chief Judge, Justice Olumifunmilayo Atilade.
The CJ expressed optimism that the new judges would strengthen the judiciary's capacity, adding that their presentation to the Bar was in recognition of the fact that the Bench could not exist in isolation.
According to her, "Just as it is impossible to clap with one hand, it is also unsustainable for the Bench to do without the Bar and vice versa.
"The strength of our judicial system, to greater extent, lies in the cordiality and effectiveness of both the Bar and Bench."
Justice Atilade assured that the newly appointed judges were "competent and suitably qualified", and that she had no iota of doubt in their ability to effectively discharge their statutory duties.
"The inclusion of these eminent personalities, I must note, is with deliberate intent to further the course of justice, enhance service delivery and ultimately, ensure quick dispensation of cases," she said.