FORMER President Olusegun Obasanjo, added the ''rank" of an octogenarian to his epaulettes of a retired Army General and two-time Nigerian leader on Saturday, 5th March, 2017.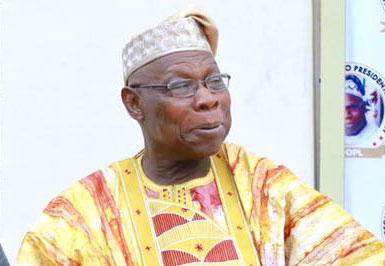 President Muhammadu Buhari, in a congratulatory message, described Obasanjo as a global citizen. Acting President Yemi Osinbajo, at one of the events to mark the birthday eulogised him as a leader who has been part of Nigeria's developmental history and its contours.
Reflecting on his own life, Obasanjo, a one-time United Nations Secretary General aspirant, said he was a village boy who rose to the top by accident.
From his career in the military to his ascension to the civilian presidency in 1999, destiny positioned Obasanjo as the beneficiary of the efforts and sacrifices of others. As a military officer, he received the instruments of surrender of the defunct secessionist Republic of Biafra from Major-General Philip Effiong at the end of the Nigeria Civil War in 1970.
Following the assassination of former Head of State, General Murtala Mohammed in the coup of February13,1976, Obasanjo as the Chief of Staff, Supreme Headquarters, assumed the mantle of leadership.
Destiny still had another role for the soldier-turned chicken farmer at the presidential portals of power. Like the biblical Joseph, Obasanjo was fetched from the catacombs of  Yola Prisons where he was serving a life sentence to be sponsored as elected President.
Chroniclers of Nigeria's political and historical trajectories saw him as a direct beneficiary of the tragedy of fellow Abeokuta indigene, business mogul and politician, the late Chief Moshood Abiola whose June 12,1993, presidential mandate was annulled.
Fortuitously, Obasanjo, by that feat became the first leader to rule Nigeria twice, as a military Head of State and civilian president. He also has the contradictory record of a leader who voluntarily handed over to civilians in 1979 but tried to change the constitution to elongate his stay in power after exhausting his two terms in 2007.
Obasanjo, despite his inability to become the Secretary-General of the UN, remains an international figure, particularly in Africa where he contributed in bringing Nigeria's Afro-centric foreign policy to bear during the two times he led the country. As an elected President, he pushed for a strong private sector-driven economy and brought in internationally well-connected Nigerians into his government who helped Nigeria exit the London-Paris Club debt trap in 2005.
Obasanjo is an ebullient public figure who does not run away from controversies, some of which could have wilted the courage of less determined mortals. He has also struck the boisterous posture of an intellectual in his own rights; the only Nigerian leader who has authored many books to portray his own perspective of his place in history.
He is also the only former leader of Nigeria who owns a Presidential library. We wish Chief Obasanjo many more tears of service to his fatherland, in good health.