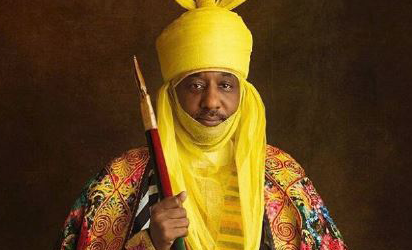 The Emir of Kano
As a traditional ruler, the Emir of Kano is expected to dispense sage advice in matters temporal and spiritual to his legions of followers across Muslim-majority northern Nigeria.
Like his counterparts dotted across the vast country of 180 million, he is the proud guardian of the past and the customs that define his people.
Sanusi II
But Muhammad Sanusi II has also set himself up as a progressive social reformer, shaking up long-held views and practices on marriage, including polygamy, to make unions fairer — and safer.
For more than a year, a team of clerics and experts assembled by the 55-year-old emir has been working to end abuse in family life, he revealed last Sunday.
The 670-page document seeks to codify all aspects of family life including marriage, divorce, child custody, wills and inheritance, specifically to enforce and protect women's rights.
The report recommends stiff penalties for domestic violence, early and forced marriages, child begging and "the humiliation of women" in homes, he added.
– Means to marry –
Before being appointed emir in June 2014, Sanusi was governor of the Central Bank of Nigeria and a university lecturer.
In that regard, he is one of a new generation of younger, more worldly traditional rulers in Nigeria along with the Oba of Benin in the south, and the Ooni of Ife in the southwest.
But Sanusi's attempts to break with the past have met resistance in royal circles.
Last month he cancelled plans to put a cap on the cost of marriage, calling it oppressive against women as it did not provide any measures to make it harder for men to divorce wives.
Polygamy is widely practised in northern Nigeria, as Islam allows a man to take up to four wives. Sanusi himself has three wives and a number of children.
But under his plans, anyone without the financial wherewithal would not be able to add a wife, given that many men marry and divorce at will.
Former wives and children from those unions are abandoned and with no social safety net, are forced to fend for themselves in Kano city, which has been in economic decline since the 1980s.
"If you father a child, you are responsible for his upkeep and if you know you don't have the capacity to cater for him, then don't bring him to the world," said Sanusi.
– 'No turning back' –
High rates of begging have been blamed on the widespread belief in predestination among Muslims in northern Nigeria, who expect God to provide for them and their families, no matter how big.
Campaigners have warned that children especially are put at risk from traffickers, drugs, sexual abuse and indoctrination by extremists such as Boko Haram.
Sanusi has criticised those who defend the practice as "tradition" and vowed to end the impunity of those men who force their former wives and offspring onto the streets.
Some men have criticised the proposed law, saying it will curb their rights to marriage and family. But the emir, who has the backing of the state governor Umar Ganduje, was unmoved.
"Change is always difficult to effect and people may not necessarily be willing to accept and appreciate change," he said.
"But people should be ready for the family code, there is no turning back on this."
– Mass weddings –
Efforts have been made to address the impact in Kano of the highest divorce rates in Nigeria, including mass weddings initiated by the Sharia or Islamic law police, the Hisbah.
Couples have to sign an undertaking to explore all avenues if they are considering breaking up, and a man risks jail for divorcing without the consent of the Hisbah.
The "morality police" also ensure the men have the means to support a wife and any children, while the state pays the marriage expenses.
Attine Abdullahi, head of the Voice of Widows, Divorcees and Orphans Association of Nigeria (VOWAN), said they were "very happy" with Sanusi's proposals.
"We have been fighting for an end to the exploitation and dehumanisation of women and children in the name of marriage," she said.
"The institution of marriage has been flagrantly abused by men in our society out of sheer ego and I believe this law will check such excesses when it comes into effect."
She added: "If the emir succeeds in enacting the family law we will have solved half the social ills confronting our society today.
"The law will certainly tackle the endemic social problems in our society from their roots, which is the family."