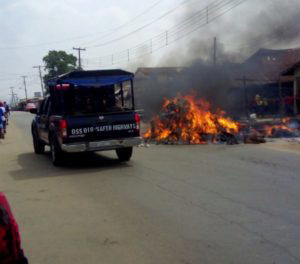 5 dead as Hausa, Yoruba communities clash in Osun
Five persons have been reported dead following a clash between Hausa and Yoruba communities in Osun. According to the reports, areas that were most volatile with the clash are the Sabo, Lagere and Olaoluwa areas of Ile-Ife, Osun state.
The official cause of the clash is yet to be ascertained but reports alleged that some Hausa men were accused of raping and harassing wives of Yoruba men in the Sabo area of Ile-Ife. As a result, the Yoruba men attacked the Hausa community in a clash that erupted Tuesday and culminated into a deadly one on Wednesday.
In the pictures available so far, some of the victims are seen burnt to ashes with a tyre still hanging on one of them in the street.
The report also has it that the Sabo area has been completely locked down as all the stalls belonging to the Hausas situated in Lagere area have been completely destroyed along with the goods.
It also said Security agencies comprising the Police and the Army have moved in to contain the situation.
Confirming the incidence,  Imam Muhammed Basir, the Senior Special Assistant to Osun State Governor, Ogbeni Rauf Aregbesola on Arewa Matter, said the situation has taken a very dangerous dimension. He confirmed that one person was shot dead. He also told newsmen that reports from the state claimed that more than three persons had been killed.
He called for more deployment of security agencies from Osogbo to intervene since the situation seemed beyond the Divisional Police unit.
Basir also said that he has notified the Governor and the Commissioner of Police in the state, Mr Fimihan Adeoye as well as the Director of the Department of State Security Service (DSS).
Confirming the incidence too, the acting Commissioner of Police in the state, Mr Muhammed Abubakar Koji  who spoke through the Police Public Relation Officer, (PPRO) SP Folasade Odoro said necessary steps have been taken to curtail the situation. He said mobile policemen have been deployed to Ile-Ife.