By Lawani Mikairu
lagos—Some of the 2,000 Nigeria workers in  Arik Air face eminent retrenchment as the revenue of the airline dwindles due to reduction in flight frequency and the shrinking number of airworthy planes in the airline's fleet.
The airline's 120 daily flights has been reduced to an average of 18 .. This is coming as the former management of the airline denies owning International Air Transport Association, IATA, $78 million.
Sources inside the airline told Vanguard yesterday that the airline has  about N1 billion monthly wage bill and a projected monthly revenue of N1.5 billion, which is not enough to meet operating costs, offset aircraft insurance bills or pay its creditors and about 2,000 workforce in its Nigerian operations alone.
However, the media consultant to AMCON (Arik Air), Simon Tumba, said the airline has no plan to sack workers.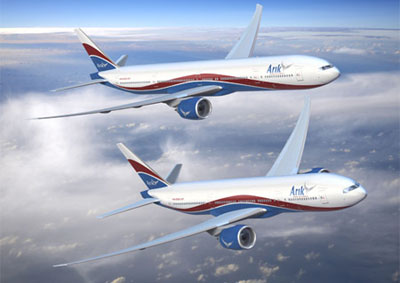 He said instead of retrenchment, the new management appointed by AMCON is planning to service five more aircraft and put them back in the air.
"But the challenge the airline is having is lack of funds because it cannot on its own generate enough revenue to service the aircraft already on AOG (Aircraft On Ground), source fuel and pay the workers," Tumba said.
To service the five planes mentioned by Tumba, the airline would need about $1.5 million, which it may likely source from the black market.
Vanguard  sources further said that: "AMCON may inject about N15 billion into the airline as start up fund after the initial funding of about N4 billion, but the hope of getting more fund from the corporation continues to dim as the new management grapples with the challenge of managing the airline."
Meanwhile, on the alleged debt owed the International Air Transport Association, IATA, the former management of Arik Air has explained that it did not owe the international agency, since IATA has the mandate to collect the revenues of the Federal Airports Authority of Nigeria, FAAN, the Nigerian Civil Aviation Authority, NCAA and the Nigerian Airspace Management Agency, NAMA.
"So as Arik paid its charges to these agencies, the invoices were duplicated in IATA, so the alleged $78 million debt was a misunderstanding. We have our receipts and banking tellers to back these payments, which we made directly to these agencies instead of through IATA," said a member of the  former Arik management, who pleaded anonymity.