By Dayo Adesulu & Kelechukwu Iruoma
IN his quest to perfect the 2017 Unified Tertiary Matriculation Examination, UTME, the Registrar, Joint Admission and Matriculation Board, JAMB, Professor Ishaq Oloyede during the week gathered more than 600 Computer Based Testing (CBT) accredited owners to University of Lagos, UNILAG.
At the meeting, many CBT owners across the country who spoke with Vanguard confirmed their readiness for the 2017 UTME, adding that they have met the demands of the Board. According to them, for a centre to be certified by JAMB, it must have a hall that can accommodate a  minimum of 250 candidates and 250 computer systems duly connected to a functional sever. Besides, it must also have a functional generating plant and CCTV within and outside the examination premises.
'We have met JAMB requirements': In his reaction, Obi Ijeoma Precious, the centre administrator of International College, Ibefu centre, in Ogun State said: "Our centre is the best in Ogun State. From the result of the assessment, we came out the best. We have 515 computers. 'We have strong servers in two centres. Both centres have 254 computers each and we have 3KVA server, one for each of the centres and one as a back up server.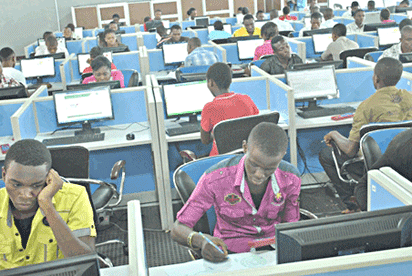 "We have a generator dedicated to one of the centres. In the college, we have three big generators and one designated to the centre. We spent above N100 million in setting up the centre. As an international college, our school does not engage in examination malpractice."
Mr. Duru Emeka, representing Chief Communication Limited in Abia State, noted that his centre had been used twice for UTME, adding, "this is the third time and we are prepared. Our centre was a choice because we met the required standard.
Required standard
"We have 250 capacity hall with back up of 25, a big generator with air-conditioners. All the systems are connected to the network. We have CCTV cameras installed in the halls. I am looking forward to a more organized exam as JAMB has taken time to correct things that were not in place." Asked if the exam will be malpractice free, he added, "I believe, there will not be exam malpractice because there are CCTV everywhere.  JAMB does the posting of  students, hence special centres will not exist."
On his part, Dr. Phillip Vande, a lecturer at Veritas University, Abuja and a Director of Consultancy, confirmed his centre's readiness for the exam. He said: "This is the first time our centre has been accredited for the purpose of the CBT. Before we started, we approached JAMB and they gave us the requirements a centre needs to have before accreditation is granted. We have provided the 250 minimum systems required, installed CCTV, built cubicle in our centre and possess adequate server to carry all the 250 systems." Vande, however, lauded the former JAMB registrar, Professor Dibu Ojerinde, who initiated the computer based test.
Former registrar gets applause: He said: "The former registrar was a pro-active registrar, a forward looking registrar. This is an ICT world and for him to have brought this innovation, it is worth commending. His successor continued from where he stopped and he has upgraded it, making it qualitative by ensuring that centres that are accredited are serious with their computers. The registrar has put in a lot of modalities before the registration commenced. One of the modalities was that secondary schools must have completed their exams like WAEC before UTME, because of cases of awaiting results."
Also, Mrs. Ubaren Osiebe, representing the CBT centre at the Delta State Polytechnic, Ogwashiku said that was the first time their CBT centre has been accredited by JAMB. "I believe it will be difficult for students to engage in malpractice during this examination because the invisible eyes of the CCTV camera will be watching them," she said.
CCTV to eliminate malpractice: Speaking in the same vein, Engr. Sixtus Okike, operator of Heritage and Innovative Arts Centre in Aba lauded the new administration, adding that his innovations have almost changed everything by fighting against malpractice and bringing our educational system to the topmost. He said: "The new administration has introduced CCTV camera where everyone can be viewed within and outside the examination halls."  He, however, warned that to get perfection in the conduct of UTME, every centre must work  on their internet connections, so that centres can upload scripts on time.
"JAMB should also review the amount they pay per candidate  to each CBT owner from N600 upward. They should look at what they give to CBT centres so that CBT centres can give them the best in whatever they need. N600 per candidate is poor, considering the economic situation and the facilities we have in place. One server in my office cost N1.2 million.  My centre has cost me up to N25 million and it has been three years now," he added.
Moreover, Engr. Gideon Amah, a CBT centre administrator said his centre has improved on the quality of facilities. He pointed out that his centre has efficient servers and has also  upgraded the sitting capacity to accommodate the 250 candidates required. He said: "To set up the facilities cost us millions of naira. It is capital intensive and a long time investment. Of course it is not just a one day event. One has to be patient enough, knowing that overtime, the profit will be made."
Meanwhile, before the commencement of the crucial meeting with the CBT owners, Professor Oloyede ceased the opportunity and attended to representatives of the blind in their bid to participate in 2017 UTME. Oloyede while addressing the peculiar challenges of the physically challenged candidates, said that many JAMB candidates were pretending to be blind when they were not.
Pretending to be blind
He said: "We are having the problem of those who are not blind, but pretending to be blind. We had a case in Abeokuta where somebody said he was blind but on getting there, we discovered that he was not blind. Hence, I do not want to call them visually challenged. I call them the blind because it is not a crime to be blind. When you say visually blind, you are accommodating people who are not blind. Look at people using glasses, anybody who is using glasses is virtually impaired. I have not committed any offence calling them the blind."
Exam by interaction: To curb this trend, Oloyede said: "This year, we are going to interact with them, once they fill the form with the subjects they have chosen. Experts will interact with them. Those who do chemistry, physics, among others, will be assessed by experts in the fields. We are going to group them into Lagos, Kano and Abuja and experts will interact with them in the subjects. The experts will just have discussion with them and assess them over 400 and they will get their score."
He explained that the norm for the blind candidates was for them to go through residential training on the account of JAMB on how to use the machine to answer examination questions.