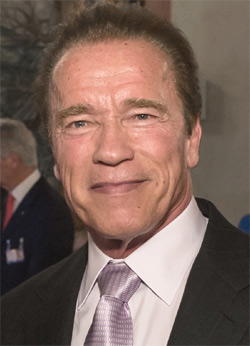 Schwarzenegger
Donald Trump attended Washington's annual prayer breakfast Thursday and asked assembled faith leaders to pray for Arnold Schwarzenegger's television ratings.
On his maiden visit to the marquee political and religious event, Trump took a joking swipe at his successor as host of "The Apprentice."
"I want to just pray for Arnold, if we can for those ratings, okay?" Trump said.
Schwarzenegger took over as host of the show on NBC television after Trump ditched the boardroom for an improbable foray into politics.
Trump remains an executive producer on the show.
It is not the first time Trump takes on "The Terminator" star. A few weeks before being sworn in as the 45th president of the United States, Trump took to Twitter to mock his "Apprentice" successor.
In a pair of early morning tweets, Trump ripped into the actor-turned-politician, ridiculing viewing figures for the season premiere — and calling himself a "ratings machine" by comparison.
"Wow, the ratings are in and Arnold Schwarzenegger got 'swamped' (or destroyed) by comparison to the ratings machine, DJT. So much for….
"being a movie star-and that was season 1 compared to season 14. Now compare him to my season 1. But who cares, he supported Kasich & Hillary," Trump wrote.
Schwarzenegger, a former California governor, was among the Republican figures who refused to back Trump's bid for the presidency.