By Emmanuel Elebeke & Laju Iren
Electronic voting was a major player in the 2017 elections, but it was not without its flaws. Recall that after several tries, former President Goodluck Jonathan himself was unable to use the card reader and had to cast his vote manually. There were also allegations of voter list mark-up's, ghost voting and battery failures to power some of the devices.
It must have been to improve on the existing process that the Electronic Development Institute (ELDI), Awka developed a Solar-Powered Electronic Voting Machine for 2019 general elections.
Presenting the device to the Minister of Science and Technology, Dr. Ogbonnaya Onu in Abuja recently, the Executive Vice Chairman of national Agency for Science and Engineering Infrastructure (NASENI), Prof. Mohammed Haruna told the Minister that the innovation was inspired by his mandate to the agency to develop a tamper proof electronic machine  for general elections.
The novel technology with cloud-based election result collation system was developed using computer based computing which addresses most of the current electoral challenges such as the capacity to eliminate ballot snatching, multiple thump printing, failure of card reader and alteration of data between polling units and collation centres.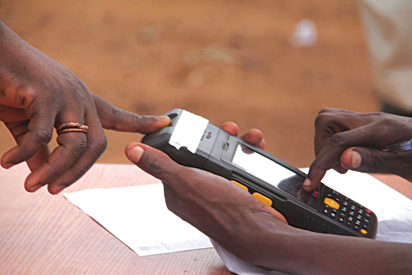 The device makes provision for real time election result s  as voting progresses. It also has provision for Diaspora voting and incorporates facial recognition, radio frequency identification device options of voter's identification in addition to finger-print identificaion and card readers. This home-grown technology is also time-saving with  each voter spending between fifty to ninety seconds to cast his/her votes for both executive and legislative elections.
Of all its advantages, one that stands out is the ability of the new device to function without batteries or electricity, simply relying on solar power.  "All you need to do is to position an internet system in the collection centre, which will receive all the voting information in real time while the election progresses," said Haruna.
However, like the proverbial soup that requires a lot of money to come out sweet, the innovation is no walk in the park; it would take N3.5 million to develop the machine for a single polling unit.
However, the price is expected to drop as a result of mass production. Even then, it would require about N419.91 billion to provide the device in the 119,973 polling units across the 36 states of the country and the FCT.
The Electronics Development Institute, Awka is a parastatal under NASENI with a mandate to develop technologies required by the electronics materials and equipment industries, and in particular, to undertake research, development and production works.
The Minister of S&T said that the development could ensure freer and fairer elections in the country: ''People spend years in the court because elections were not free and fair. President Mohammadu Buhari has promised free and fair elections. We will make it possible to in Nigeria. We want a situation where people will cast their votes and go home happy.  This is how democracy can be grown. If elections are not free and fair, those elected will not owe much to Nigerians."