By Ugochukwu Alaribe
ABA — PIQUED by the level of brickbats between Imo State governor, Owelle Rochas Okorocha and his Anambra State counterpart, Chief Willie Obiano, the Association of South East Town Unions, ASETU, has lambasted the two governors over what it described as a shameful outing unbecoming of their positions.
Okorocha and Obiano had been "throwing mud on themselves" following alleged claims by Okorocha that three South East governors were set to defect to the All Progressives Congress, APC.
Diversionary tactics
However, the union lamented that instead of working for the development of their areas, the two governors are engaged in  the politics of villifration diverting attention of the people from the biting economic recession, which it said had brought a lot of hardship to the electorate.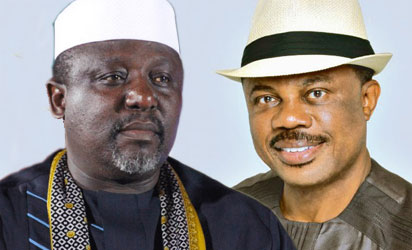 The national chairman of ASETU, Chief Emeka Diwe, who spoke in an interview with the South East Voice in Aba, said the association was worried that Okorocha and Obiano have chosen to openly cast aspersions at each other, thereby bringing Ndigbo to ridicule.
He said, "It is unfortunate that the two governors chose to throw caution to the wind by casting aspersions at each other, thus bringing Ndigbo to ridicule. As a grassroots organization in Igbo land, we are worried that our governors chose to descend too low. We are the highest risk bearers. If there is good governance, we should be the greatest beneficiaries and if it is bad governance, we become the most affected.
"We are, therefore, concerned because it is the grass that suffers when two elephants fight. We are not taking sides, but analysing facts arising from the altercations. We are looking at the facts, to be able to conduct our independent investigations on the allegations being traded by the two governors.
"At this time, there is no point calling on them to sheathe their swords or stop washing their dirty linens in the public. At the appropriate time, we will make known our findings on the matter. It is interesting that people are already assessing their performance in their respective states. We view this as a good development that will raise the bar of governance in Igbo land."
South East Governors' Forum
Diwe further stated that the exchange between Okorocha and Obiano has exposed the lack of cohesion and cooperation between South East governors, describing the development as unhealthy for the zone.
"Now, we are forced to ask, does the South East Governors' Forum still exist? Who is the chairman? Is there any form of cohesion or cooperation among the South East Governors? This is where our governors are not getting it right. Instead of our governors cooperating to make life more meaningful for their people,   they are quarrelling over who will defect to this or that party.
"Why can't they learn from their counterparts in the North and South West zones who aside party affiliations have always met to discuss issues of common interest to their blocs? We talk of Igbo presidency, is this how we are going to rule Nigeria?"