Sanusi to northern govs: Let's convert our mosques to schools
By Dapo Akinrefon, Charles Kumolu, Gbenga Oke & AbdulSalam Muhammad
KANO— THE Emir of Kano, Mallam Muhammadu Sanusi II, has advised northern governors to convert mosques to primary schools to save cost and boost education in the region.
Sanusi, who spoke during the graduation ceremony of 2,500 Post Graduate Diploma and NCE teachers on day three of Kano Basic Education week, yesterday, argued that the step would save cost in this era of recession.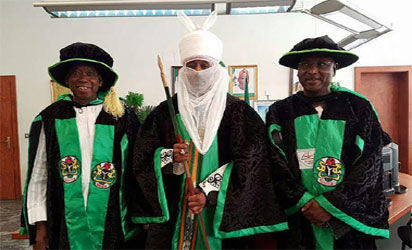 "If you look at our educational needs viz a viz the infrastructure deficit, it has become imperative to convert existing mosques to primary schools, and aside cost reduction in this era of recession, it would accelerate education development in the region," he said.
The suggestion elicited mixed views from some Northern leaders. While Second Republic politician, Dr Junaid Mohammed, said the monarch's suggestion is mischievous, it was given thumbs up by Second Republic governor of old Kaduna State, Alhaji Balarabe Musa and National President of the Arewa Youth Consultative Forum, AYCF,  Alhaji Shettima Usman Yerima. However, former Lagos State Commissioner of Police, Alhaji Abubakar Tsav, said it was wrong to apply economics to the worship of God
Sanusi said: "It is not all the time that we pray and this utilities remain idle for the better part of the day. It will be highly rewarding if we convert them to learning institutions as obtains in other climes."
The immediate past governor of the Central Bank of Nigeria, CBN,  said Morocco and many countries in the Arab world had made efficient utilization of Muslim worship centres to spread knowledge.
Disadvantaged position of North
Lamenting the disadvantaged position of the North in western education and calling for concerted efforts to tackle the problem, Sanusi: "When you convert these mosques to institutions of learning in your domain, you simply bring education to the door steps of citizens at less cost"
He noted that products of such institutions would turn out to be "responsible citizens," adding that it would also boost students enrollment.
Indeed, the monarch recently said that "educating the girl-child was more important than building mosques" and advised those who wanted to donate funds for building of mosques to channel the money to building schools.
Emir's statement  mischievous — Junaid
Reacting to the suggestion, Dr Junaid Mohammed said the Emir's statement is mischievous and should not be dignified with any statement.
His words: "Ordinarily, I won't dignify the statement credited to the Emir with any response because the Emir talks from both sides of his mouth. Though, I agree that there are too many mosques all around and more functional schools need to be built, I don't think converting a mosque or church to school is what will solve the problem.
"I believe the issue of million beggars on streets in the North is what should have formed the basis of discussion and not the issue of converting mosques to schools."
It's in order  – Balarabe Musa
Also speaking, Alhaji Balarabe Musa endorsed the suggestion, saying: "I believe the conversion of mosques into primary schools is in order."
It'll eradicate radicalism – Yerima
To Alhaji Shettima Yerima, Sanusi's call would eradicate radicalism in the North. "I think the call by the Emir of Kano is a good one. Before now, some disgruntled elements have tried to portray the North and Islam in bad light. With this call by the Emir, I am optimistic that it will reduce radicalism in the region and erase the wrong impression people have regarding Islam," he said.
It"s wrong to apply economics to the
worship of God — Tsav
On his part, Alhaji Abubakar Tsav, said: ''It is wrong to apply economics to the worship of God. The choice of doing that is personal and should be between governors and their people. People do things which they believe in. However, if the mosques are converted to schools, how can that add value? In that part of the country, people believe that to worship God is better than worship of worldly things."