BY ROTIMI AGBANA
Award-winning Nigerian film studio, Rok Studios, is set to air its latest series, Single Ladies, on Sunday 12 February 2017,on DSTV.
Directed by Desmond Elliot, the all-star series details the lives of five young single women, Mara (Mercy Aigbe-Gentry), Tochi (Mary Njoku), Bidemi (Grace Amah) and Maimuna (Padita Agu), as they navigate the scary, exciting world of dating in Nigeria to find 'Mr Right'.
Speaking on the launch, Nollywood actress and Rok CEO, Mary Njoku says: "After a long wait, Single Ladies is finally coming to DSTV, in time for Valentine's Day. For me, Single Ladies is very relatable.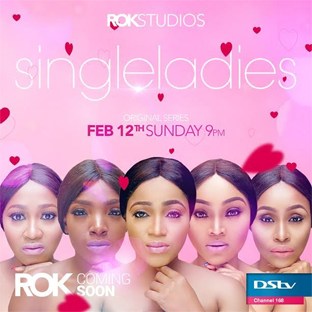 Whether you are male or female; single, in a relationship or married; old or young; you will be able to connect with the characters of Single Ladies. This series really explores the types of single women that exist in Nigeria; we have the single lady that is searching for a rich Mr. Right, the side-chick, the lady that is waiting on God for her man and more. Whatever you do, don't miss out on Single Ladies."
Since its launch in 2013, Rok has produced over 150 films and 13 original TV series, including blockbusters such as Husbands of Lagos, Desperate House girls, Losing Control and Cougars.
In 2016, Rok went global, launching two Nollywood TV Channels, including Rok on Sky in the UK, as well as Rok on DSTV, across Africa. Rok viewers are the first across Africa to watch new and exclusive homegrown Rok content, such as Single Ladies, before it goes anywhere else. Single Ladies will also premiere in the UK on Sunday 12 February 2017 at 21.00 GMT on Sky channel 344.