By Sebastine Obasi
Nigeria's power sector has just gone from bad to worse. The long standing problems have become complicated.
The sector lost an estimated N21.11 billion to inefficiency last month, while electricity generation loss amounted to 3,773 megawatts (MW) in a country that only achieved its peak generation of 5,000MW on February 2, 2016 with a projected 10,000MW attainment in 2019.
System collapse as well as gas and water constraints characterised the ineffectiveness experienced so far in the year. The system collapse which occurred on January 15, 2017 led to the loss of N1.54 billion, when 551MW was lost. Poor generation, lack of units on spinning reserve/frequency response and lack of enough feeders on under frequency relay scheme were said to be responsible for the collapse.
Transcorp, Sapele I and II, Afam VI, Omotosho I and II, Olorunsogo I, Geregu I, and Okpai were affected by the collapse. Specifically, Geregu Gas GT12 was said to have tripped on low frequency of 48.4Hz rejecting 116MW. Total load rejected was 416MW resulting in sharp drop in frequency that led to system collapse.
Last month alone the following were the state of the power assets: Egbin and Sapele plants were shut down following their collapse, while Kainji, Jebba and Olorunsogo 1 lost functionality. Gbarain, Geregu NIPP and Sapele NIPP were shut down for maintenance work on their fire hydrant. Kainji G/S 1G5 was out on maintenance, while Shiroro was said to have reported water constraints. However, maintenance work has been carried on them.
Power was not sent out to nine gas-powered generation companies. These include, Gbarain, Rivers IPP, Trans Amadi, ASCO, and A.E.S. Others are Olorunsogo IPP, Ibom, Alaoji NIPP, Ihovbor and Afam IV – V.
Ihovbor NIPP GT2 was shut down due to gas leakage from the gas pipeline.
Afam VI GT13 was also shut down to replace the dirty air intake filter. Partial collapse occurred on January 12 2017. At 08:41Hrs, system frequency dropped from 51.00Hz to 43.00Hz. Lagos, Osogbo, Jebba, Kainji & Shiroro lost supply.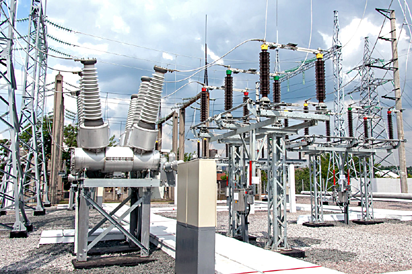 The following plants lost turbine functionality on January 13th 2017: Okpai (GT11 was out due to flame monitor problem. ST18 – Out due to hydraulic valve problem) and Olorunsogo I GT2 – Out since partial collapse of 10/01/2017. Their non functionality has also been rectified.
In all, the sector witnessed gas constraints of 18,811MW, while water constraints stood at 150MW in January.
Unavailability of gas has continued to plague the efficiency of the power sector. According to PricewaterhouseCoopers' (PwC) current Annual Power and Utilities Report, 1.4 billion standard cubic feet of gas daily, BSFCD, is needed for power generation. It noted that gas consumption rather than reserve base, is fundamental to economic growth and development.
According to the report, countries that consume ample volumes of gas significantly meet their energy needs thereby recording economic development as demonstrated by their high GDP per capita. It further explained that Nigeria's gas reserves can sufficiently guarantee stable power supply if properly harnessed.
However, a mix of tactical actions and strategic planning have to be made to enable Nigeria attain power sufficiency and possibly have residual power to export within a decade.
The PwC report also stated that while the nation has 4 hours average daily power supply, only about 12.2 percent of Nigeria's population have access to the abysmally low supply.
According to the report, swop arrangements and the implementation of the Gas Master Plan will give more impetus to the search for improved electricity.
The general consensus from stakeholders is that government-backed instruments and regulation will yield a more robust sector. Vandalism of gas pipelines and transmission infrastructure can be prevented by building proposed power plants close to gas infrastructure or investments in disruptive logistical solutions for the transportation of gas from source to where it is required.
Also, the Ministry of Power should develop an effective communication strategy that will clearly articulate the benefits of cost-reflective tariffs. Further education will be required for electricity consumers to realise that power, like every commodity, has to be appropriately priced for players in the power sector to generate the revenue required for more investments that will culminate in constant power supply, the Report added.
Speaking on the challenges facing the nation's power sector, especially the generation companies, GENCOs, Managing Director of Mainstream Energy Solutions Limited, Mr. Lamu Audu, said that part of the concession agreement with the government when the sector was privatised was that the GENCOs should recover capacity and bring the power plants to their nameplate capacities of 760MW and 574MW for Kainji and Jebba, respectively.
"We took over about 400 megawatts at the two plants because Kainji was literally zero, so it was Jebba that was generating 400megawatts and now we are at 922 megawatts capacity. So at least we have done more than 50 percent.
"We could have gone beyond that level but while we are doing everything possible to meet our side of the agreement, the other party is not living up to the spirit of that agreement," he said.
Audu also spoke of unavailability of funds as one of the challenges. He stated: "We are not getting our invoices paid and so we can't have funds.
Currently, we are being owed over N50 billion in unpaid invoices. This is bill of power we generated for which we should be paid but we have not been paid.
"Another challenge is that we have serious foreign exchange issues. Sometimes, when our invoices are paid and we have the Naira, 99 percent of the operational inputs into the plants are external. They are from offshore. Therefore, we expect that priority should be given to us in obtaining FOREX. There is no way we can continue as it is with 19-25 percent of payments of our invoices," he said.
While justifying the fact that generation has nonetheless improved, he blamed the poor power supply on transmission. He explained; "The problem is the high frequency we often experience.
Currently, even the frequency management by the National Control Centre in Oshogbo, often directs us to reduce generation because we run a grid system.
"Statutorily, the frequency of our grid is supposed to be 50 hertz, but most of the time, it is above 50 hertz. Sometimes the frequency goes as high as 51.3 hertz. What that means is that the capacity of our generators have to be suppressed because the generators see that the frequency is high, that means the energy there is not utilised, so they try to go down.
You know you cannot store electricity. As we generate, the generators will see that what they are sending is not being utilised, so why should they send more, they try to go back."
Giving further insight into the operations of GENCOs, Audu said, "Nigerians may be complaining that there is no power but this is the real situation. What we have available is not being utilised as at today.
To a lay man what that frequency means is that there is too much power in the grid which the transmission is not taking from us or the DISCOs have refused to take and give to consumers, so our generators reduce power. By the time I went there (Oshogbo), one of the units was reading 34mw instead of 120mw, meanwhile Nigerians need the power.
"For me, in October 2016, in Kainji alone we lost N464 million for energy that we can send to the grid but because the units are not doing that.
There was a day we lost N18 million. These units are ready to send power but the frequency is too high, people are not taking it then it goes down," he added.
Also speaking, Tony Elumelu, chairman of Transcorp Group (Owners of Transcorp Power Holdings) said that Nigeria's power sector will soon collapse if urgent action is not taken.
"The agency of government that has responsibility for making sure that this sector delivers on its potential is not doing well enough.