Ekiti weightlifting team on Tuesday complains on poor and obsolete equipment used over the years, which is a contributing factor to the state unsuccessful performance in games. They made an appeal to the state government and sports philanthropists to provide it with quality and standard equipment.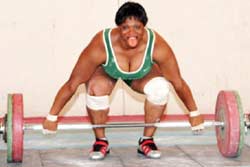 The team's Head Coach, Adeyinka Omooba, made the appeal during an interview with journalists in Ado-Ekiti. He said the state weightlifters had been training with obsolete and poor equipment over the years and that had affected their performance.
Omooba explained that one of the weightlifters, Ademola Oginni, who was currently the third best in Africa, made use of the equipment with the poor condition of the training platform.
"Currently, some of the weight and the platform used for training in the stadium are very bad.
"The condition of the weightlifting gymnasium is not good and this is really affecting the training of the weightlifters.
"Our weights are bad, our weightlifting platform is bad and the training environment is not conducive for upcoming talents.
"Without good equipment, the weightlifters cannot perform better than their counterparts from other states of the federation who are training with standard equipment.
"Ademola Oginni became the best weightlifter in Ekiti and third in Africa, not with the use of the state-owned equipment only but with his determination to excel in the sports.
"I wish to use this medium to appeal to the state government and sports philanthropists to rescue us from the poor condition of weightlifting gymnasium, he said.
Oginni said that some of the equipment needed at the weightlifting gym, includeed Eleiko weights, good weightlifting hall and a good training platform.
Subscribe for latest Videos