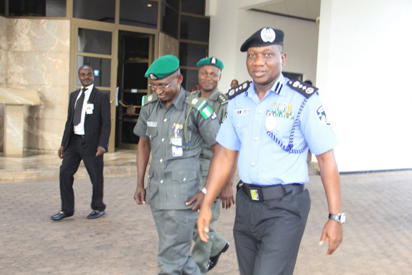 Mr. Ibrahim Idris beaming with smiles following his confirmation as the substantive IGP by the Council of State on Wednesday, September 7, 2016. With him are his officers
Mr Ibrahim Idris, the Inspector-General of Police, says the force will henceforth recruit no fewer than 10,000 personnel annually to enhance its operations.
Idris disclosed this in Sokoto on Friday when he addressed officers and men of Zone 10 of the force in Sokoto, comprising:Sokoto, Kebbi and Zamfara state commands.
He said, ''The yearly recruitment will be based on local government basis to reflect federal character and equity.
" The communities will be engaged meaningfully in the exercise in tune with the principles of democratic policing."
Idris also promised that the police would continue to accord top priority to training, retraining, promotion, welfare, housing, logistics and other operational needs of its personnel to boost their productivity.
The police boss, who also promised to urgently renovate the existing facilities and barracks across the nation, said most of the barracks were ''in a sorry state.''
Idris further said that the police management was partnering with the National Assembly to source for more funds for the force.
" The police is largely underfunded, hence, Nigeria is under policed, and I am working to redress the ugly trend."
The police boss also said that the force would soon set up a school to train officers attached to the border patrol units to enable them combat cross-border crimes such as cattle rustling, armed robbery, human trafficking and other acts of banditry.
" We will also soon reopen the Mobile Police Training School in Gwoza, Borno, establish a marine school in Bayelsa, among others," he said.
Idris reiterated the ban on check points across the country but told the personnel to maintain visibility policing, but stressing that ''bail is still free.''
" We should continue to be of good conduct to earn and sustain the confidence as well as respect of the public we are supposed to be serving diligently."
He described zone 10 command as " one of the most peaceful commands " in the country and urged its officers and men to sustain the tempo.
The Assistant Inspector-General of police, (AIG) in charge of the zone 10, Mr Yakubu Usman, had earlier commended Idris for his humility, diligence and commitment to move the Police forward.
Usman noted that the general security situation in the zone had remained peaceful in spite some attempts to disturb the peace.