By Dayo Johnson
Akure—THE Ondo State House of Assembly was sealed yesterday following a directive by the Inspector General of Police, Mr Ibrahim Idris.
This is coming as the 13 aggrieved lawmakers who last week sacked the principal officers of the Assembly have reportedly gone underground.
Reliable source hinted that they have left the state capital for Ibadan, the Oyo state capital following pressure from the other faction.
The leadership tussle had polarized the 26 Peoples Democratic Party, PDP, members of the 8th  assembly in  the state.
Additional Police patrol vehicles and personnels have been deployed to the assembly to beef up security.
Over 10 Police patrol vehicles and one Armoured Personnel Carrier,  APC, were seen at the entrance of the assembly yesterday.
No fewer than 25 policemen have also been keeping vigil at the assembly since last Friday after the clash with protesters.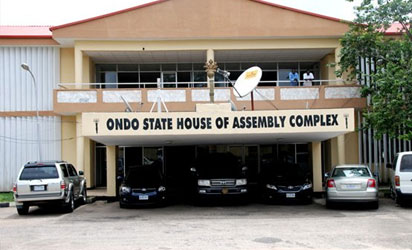 Workers have been asked to  stay at home following the inhuman treatment meted out to the pay master, Sina Makanjuola, by the 13 lawmakers who sacked the principal officers of the assembly.
Reports had it that the bloody clash between the protesters and the policemen last week informed the sealing of the assembly.
The IGP was equally said to have been irked by the attack on Governor Olusegun Mimiko by the protesters.
Police image maker, Femi Joseph could not be reached for comment but one of his aides confirmed that the directive was "from above"
The factional Speaker Malachi Coker confirmed that the directive to seal off the assembly came from the police chief.
Coker said the police on the order of the Inspector General of Police had sealed the Assembly over its leadership crisis. "On Friday, Feb, 3, the police brought a warrant that the Assembly should be locked indefinitely.
"We hope the police will not be biased in their actions by allowing the impeached Speaker's faction to have access to the complex," he said.
Meantime, the deputy governor elect, Agboola Ajayi, yesterday exonerated the party from the crisis in the assembly
Ajayi said what happened  was purely legislative matter that was bound to happen in a democracy.