Former Green Eagles star, Paul Okoku has pledged to sustain the charity works being spearheaded by the Greater Tomorrow Children Fund.
Speaking at the maiden football tournament that the GTCF organised for Internally Displaced Persons camps in Abuja, the former Flying Eagles vice captain said he was moved to give back to the less privileged persons in the society in order to bridge the big divide between the rich and the poor.
While hinging the success of charity bodies on contributions and support from members of the society and corporate organisations, Okoku, who won a silver medal at the 1984 Africa Cup of Nations, urged kind-hearted Nigerians to join the GTCF to alleviate the suffering of poor Nigerians.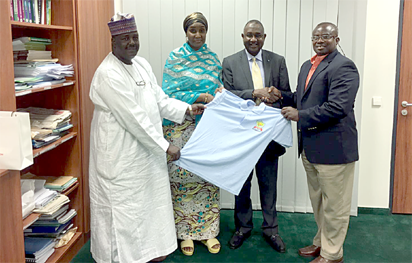 "Our foundation remains committed to alleviating suffering of the masses and that explains why we take our time to reach those who are feeling the full impact of deprivation like persons living in (refugee) camps for internally displaced people.
"Of course, we need the support of kind-hearted Nigerians to fulfill and sustain the legacies that we stand for and hope for a better society for everybody. We would not give up, neither are we going to rest on our laurels. It is just the beginning of what we know will be a fruitful charitable work for deprived ones", added Okoku.
Meanwhile, the former WAFU cup champion, during a visit to the House Committee on Internally Displaced Persons and Refugees, National House of Assembly, chaired by Hon. Muhammed Sani Zorro and Hon. Abbas Tajudeen, said the success of the event in Abuja would have been lost had the two members of Nigeria's parliament not supported the two-day event held at the FIFA Goal project of the Abuja National Stadium.
"We came to thank you for supporting this project, which would not have been the success it is if you did not believe in it. Thank you for believing in us and we hope that your door shall remain open to us when next we come", said Okoku
In another development, Okoku thanked the Nigerian Football Federation (NFF), for allowing GTCF t use the FIFA Goal project field that brought special excitement to the kids who have never played on a field like that before.
Okoku also visited the Minister of Sports, Solomon Dalung, to extend his appreciation for sending a representative, Victor Osuaha Chinedu to the event .
He also thanked all financial donors and "those who supported s in kind, our volunteers and ex-internationals for making this event a success".