By Gabriel Enogholase
BENIN—EDO State chapter of Peoples Democratic Party, PDP, has said that Governor Godwin Obaseki has been running the state as a sole administrator, as his 100-days in office has shown.
State chairman of the party, Chief Dan Orbih, who spoke with journalists at a briefing in Benin, yesterday, in his assessment of the governor's 100 days in office, insisted that the inability of  the governor to appoint commissioners and board members during the period in question, was to facilitate his mismanagement of state resources.
Orbih said the PDP came to this conclusion having observed that since Obaseki took office, he has been asking for waivers from the Office of the Auditor-General of the State for huge sums of money, just as he alleged that the governor also approved same to be paid in cash for some state transactions.
Orbih said, "On December 2 last year, the governor approved N191 million which was paid in cash to a contractor who supplied two Nissan pickups, one Prado SUV and three ordinary SUVs."
He also stated that very worrisome is the fact that the governor has now officially perfected the practice of asking the Auditor – General of the state to ignore all legal procedures and due processes for financial transactions in the state.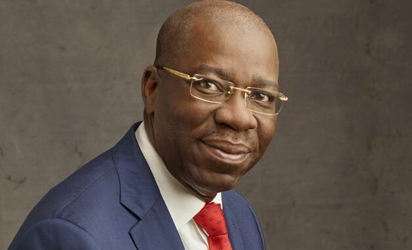 The PDP State chairman condemned the spending the sum of N134m in December 2016 for the purchase Christmas cards, Rams and petty items and another N7m  for their transportation, whereas workers were being owed backlog of entitlements by the governor.
"He has established an unusual pattern of executing government jobs using Building Maintenance Officers, BMO to prepare bill of quantities for direct labour execution of government projects," he alleged.
He said that the governor's approval of another N77m for the repainting of the Government House and the deputy governor's office last year followed this unusual process.
On the non-provision of financial estimates for drugs for the many general hospitals across the state in the 2017 budget, Orbih said he was shocked that in the same budget,  the governor asked for the sum of N3m monthly to buy drugs for the State House Clinic.