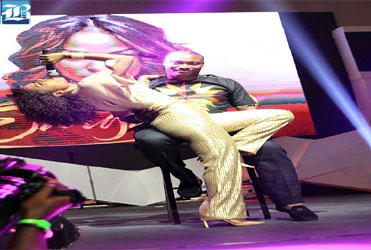 Niyola Eargasm Concert
R n B singer Niyola made a daring move that caused several men to drool and go green with envy at the recently concluded 'Eargasm' concert which held on the 11th of February, 2017 at EKO Hotel Convention Centre, Victoria Island, Lagos.
Niyola opened her performance with a number of songs; singing with an all-female live band and showing off her vocal deftness; to which the audience continuously applauded in glee. During her performance, the singer asked the band to mute; before going on to request for a male volunteer among the audience for her next performance.
Trying to randomly pick a lucky guy from the excited volunteers who frantically raised and waved their hands, a random guy; about 6'5ft with a husky physical appearance boldly strode towards the stage; causing Niyola to exclaim excitedly before taking his hand to help him ascend the stage.
The singer then told the guy to sit on a chair, which had been on the stage prior to her own performance. She moves on to bellow at the audience "This is how you treat a man!".
Slowly, with a suggestive gaze at the audience; Niyola sat on the lucky guy's lap; rotating and twisting her waist back and forth; inducing a frenzied loud roar from the entire audience.
After a few titillating minutes, the 'Toh Bad' songstress thanked the lucky fan before ushering him out of the stage.
The audience also witnessed a slew of remarkable performances from other talented musical acts, including 2Face, Adekunle Gold, Tekno, Kelly Hansome, Yinka Davies and a host of others.