By Sola Ogundipe
The upward review of duties on imported products and goods by the Federal Government has raised prices of imported goods and products and is having  deleterious effect on  life generally for millions of Nigerians. But the area where the effects of the implementation of the new policy  is biting most is in the health sector where it is causing patients and healthcare providers sleepless nights.
A circular by the Minister of Finance, Mrs. Kemi Adeosun to the Nigeria Customs Services, NCS, raised the duty payable  on imported medicaments such as anti-malarials and antibiotics.
Following the directive on Tax for medicaments in the circular  entitled "Import Adjustment Tax.", a 20 per cent tax is being imposed on imported medicaments.  No sooner was this announcement made than the prices of common Over-The-Counter, OTC, medications such as antibiotics, antimalarials and antipyretics jumped through the roof.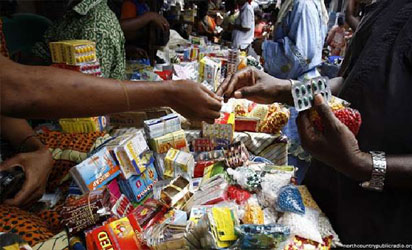 In a number of pharmacies, chemist shops and other drug retail outlets across the Federation, prices of these drugs have gone out of the reach of the average Nigerians.
Millions of Nigerians already impoverished by the biting economic recession are now having tough time purchasing these medicaments.
Fears by health watchers that the new taxation policy on every imported pharmaceutical drug and allied products, will  trigger unparalled increases in prices are already founded.
Latest inventory of drug prices showed that the effect of the duty increase has been astronomical, and those bearing the full effect of the development are the end users, that is the consumers.
For most, gone are hopes of affordable and available health care.
Survey of drug prices
A recent independent  nationwide survey of prices of medicaments conducted by I CARE, a non-governmental organisation,  shows there is an astronomical increase on the heels of the implementation of the new import duty policy.
Prices of drugs commonly used in the treatment and/ or management of some of the health challenges of Nigerians especially in the rural areas have shot through the roof in most drug outlets across the country. According to the survey,  a common  anti-hypertensive drug, Co–Dovan, that cost N3,000 per pack before the 20 per cent duty took effect, now costs N10,000.
Meropenem Injection, a lifesaving antibiotic, normally used for complicated infections, was selling for N4,600 per ampoule, but now cannot be purchased for less than N18,000. Felene, a Non – Steriodal Anti- Inflammatory Drug,  NSAID, normally used for treatment of Arthritic conditions, was N180 per pack, now it is N500 per pack. The drug is used for life.
Other drugs include Insulin for diabetics 100iu that was selling  for  N900, now costs N3000 in the shops; Ketamin injection, an Anasthestic agent used for surgical operations, used to be bought for under N1,000, is now N8,000.00; Omeprazole  an anti-ulcer drug was selling for N150 a pack, but now costs more than N1,000; Anti-Tetanus Serum (ATS), a life-saving injection for dog bites, and injuries from nails and sharp, rusty objects was N6,000 but is now N45,000;    a box of eight packets of Omega H3 multivitamin capsules  was N8,000, it is now N16,000;  Vitamin B complex injection that was N1,800 per pack, is now N7,000 in the shops, while  Fortuin injection used for crashing post operative pains,is currently selling for N18,000 per pack of 100 in the shops, compared to about N7,500  previously.
Also affected are Gyno – Trosyd  for  vaginal candidiasis, it was costing N1,400 per pack, but is now N2,500. Malaria drugs for adults and children are not spared. The average cost used to range between N200 and N500, but is now more than N1,000 for the cheapest.
Negative effects
The National Co-ordinator, I CARE, Toritsheju Aghofofo-Kete, said the survey was carried out to highlight the combined negative effects of shortage of forex and the 20 per cent tax on imported medicaments and effects on the  Federal government's promise to make drugs available and affordable to most Nigerians.
Scores of indigent Nigerians that are unable to purchase drugs as a result of this development are having  pathetic stories to tell.
A diabetic patient on daily insulin injection now spends close to N65,000 monthly –  almost three times what she was spending previously – to procure insulin. A commentator on national issues noted that in the current circumstances, the whole point of  reducing out-of- pocket expenditure by the masses has been defeated.
It was gathered from industry watchers  that the latest policy directive  is contrary to the 1988 World Trade Organisation, WTO, recommendation of not more than 5 per cent duty on medicaments.
Directive: The WTO directive was one of the strategies adopted to ensure achievement of global vision of affordable universal healthcare and elimination of diseases.
It would also be recalled that in view of the paucity of drug manufacturing firms in the sub-region, the  Economic Community of West African States, ECOWAS, Committee on Health, recommended a waiver of  duty on medicaments and the argument for zero per cent duty on imported medicaments came into being.
Economic recession
In the past, Nigeria had implemented a policy of 20 per cent duty on medicaments excluding 5 per cent VAT. In 2013 however, the Federal Government reviewed the policy and adopted the ECOWAS zero duty recommendation.
Policy reversal: Now there has been another policy reversal which when combined with the deleterious effects of the biting economic recession, is accentuating suffering of the masses and complicating their health issues.
With the National Health  Insurance Scheme, NHIS, yet to cover a sizeable number of beneficiaries, the phenomenon of out-of-pocket payment is still order of the day.
Experts say except this development is urgently addressed, the promise of essential drugs and other health services at affordable prices through an effective and sustainable  distribution system in the public and private sectors, as promised by the President Muhammadu Buhari adminstration  would remain a dream.
Revenue generation: Although the Ministry of Finance had said the directive was necessitated by the need to generate revenue and support for the local drug manufacturing industry, but with fewer than 300 drug manufacturing companies of which less than 5 per cent are WHO certified, just 20 percent of that national drug needs can be met even if the local industries are operating at full capacity.
Industry watchers argue that  except there is urgent reveiew of this policy, a bleak year awaits the healthcare sector.
Subscribe for latest Videos